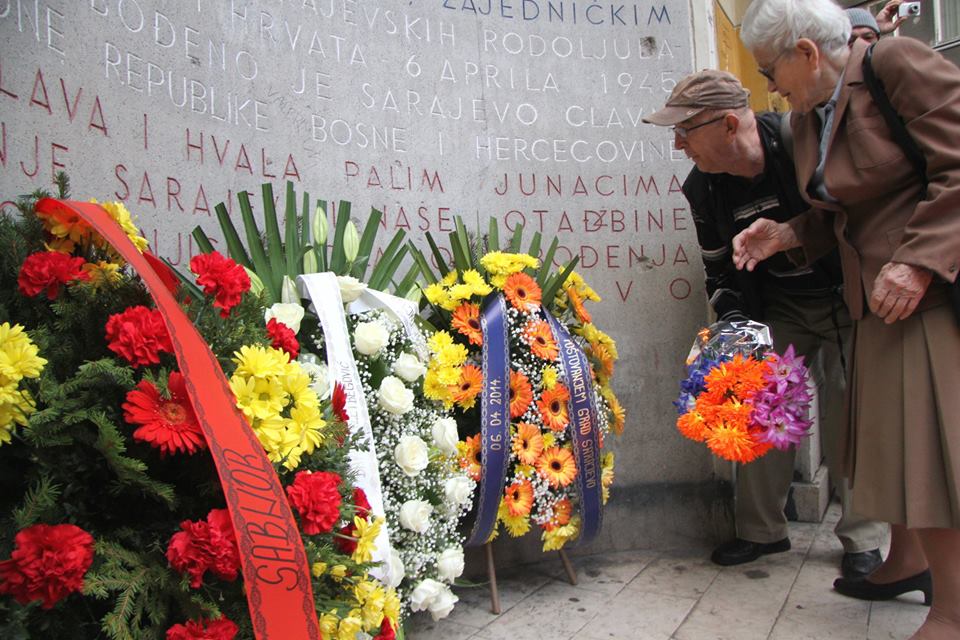 By Medina Malagic – Sarajevo
6 April is the day of the City of Sarajevo. Yesterday, the city marked this day with numerous exhibitions, slogans, the laying of flowers at the Eternal Flame, and many other events. 6 April is a significant day for Sarajevo, but also a very odd one, as it is both a celebration and a somber event, marking two different events that took place on the same day in the city's history.
On 6 April 1945, Sarajevo was liberated from the fascist occupation during WWII. This event serves as a constant reminder, with the phrase 'joint efforts and sacrifices of the Sarajevo patriots of Serbs, Muslims and Croats'' chiseled in the concrete wall above the constantly burning 'Eternal Flame' in Sarajevo.
On the same day 47 years later, on 6 April 1992, Sarajevo became engulfed in the longest siege of a city in Europe in modern history.
Sarajevo is a city that bears many bruises and wounds of the past, but the personal and oral stories of the perseverance of the people of Sarajevo are just as powerful and stark as the physical signs of a country that has endured immeasurable hardships.
Today, Sarajevo is capitalizing on its tourist potentials, as every year more and more tourists come to this city. The city boasts on its array of offers to tourism, the combination of its cosmopolitanism and modernity with the irrefutable charm and fascinating history of a small city.
6 April is a day for Sarajevo citizens to solemnly commemorate the brutal past of the city, with scars still visible on its streets, but also to signal the more positive present, and the ardent hopes for its future, as well as the endeavors to preserve what many say the city has still not lost, which is its preservation of diversity and centuries of religious and ethnic coexistence.
Yesterday, Sarajevo citizens gathered in front of the Eternal Flame and paid tribute to the fallen soldiers and citizens who sacrificed their lives in the fight against fascism. Even though it was an event that occurred during WWII, the struggle against fascism resonates with B&H citizens today. For the old and young, those who lived through the conflict and the younger generations who are eager to prevent the onslaught of fascism engulfing this country once again, 6 April was also marked by activities that could be seen as the public proclamation of what people in Sarajevo stand for. By paying homage to the fallen victims, they are continuing the same struggle. This time, the target is their corrupt political system. Through the Plenums and continuing protests, it is also the revival of the anti-fascist tradition of B&H, one that has a long history but has been suppressed by malicious forces time and time again. For the first time since the end of the recent conflict, it is an attempt to present a radical alternative.