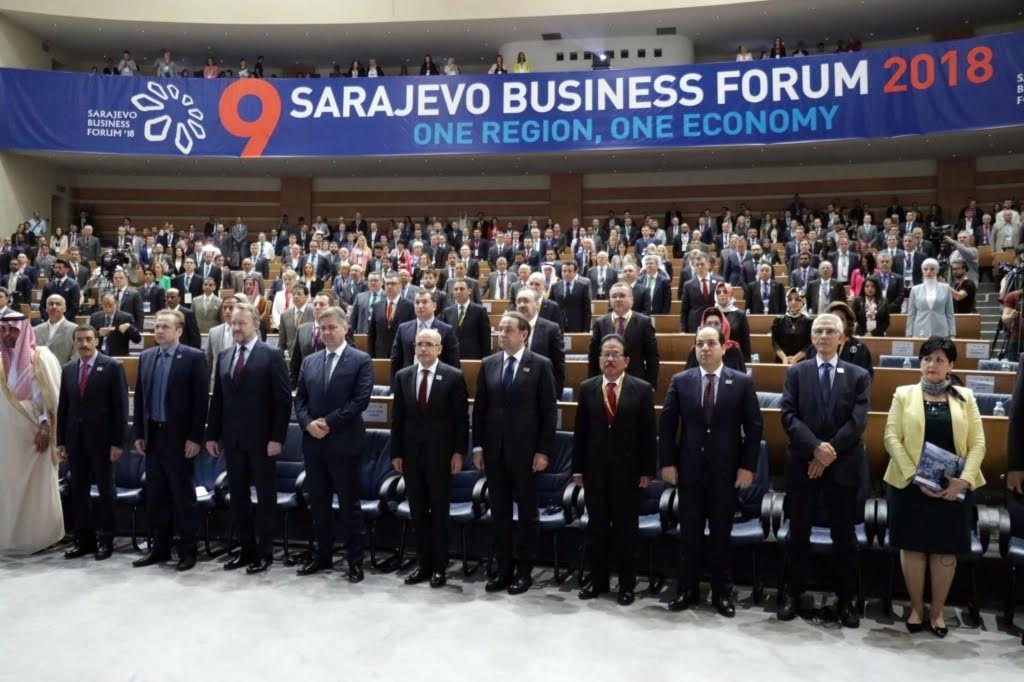 For the last two days Bosnia and Herzegovina's capital city, Sarajevo hosted more than 1 800 participants at the 9th Sarajevo Business Forum (SBF). It is the largest number of participants ever to attend this event and it is expected that a large number of contracts on new investments will be signed during the Forum.
Entrepreneurs, investors and representatives of main financial institutions from more than 50 countries came to Sarajevo to discuss possible investments and co-operation with local companies. Most of them are from the Gulf countries and their interest for investments in BiH is large. SBF was also described as the best event that can stop young people leaving from BiH in order to go search for a job in EU countries. BiH Presidency Chairman, Bakir Izetbegović said at the opening ceremony that with the SBF, the country becomes the "perfect meeting place between the East and the West".
Turkish Deputy Prime Minister Mehmet Şimşek said that Turkey encourages business people to invest in BiH because they believe in the state's "long term prosperity". He emphasised that Turkish firms have invested $35 billion abroad over the last decade.
"I have heard of BiH's great potential in energy, agriculture, and tourism. There is a huge opportunity here. My government, my country is committed to the sustainable prosperity of peaceful Balkan nations", Şimşek said, adding that he believes there are the extensive investments opportunities in BiH.
On the second day (Thursday), the SBF agenda focused on tourism and investment opportunities in this field. It is expected that more than 50 contracts will be signed in the tourism industry only, since, according to all indicators, the tourism sector in BiH, and the wider region, shows positive trends. But, as it was emphasised during the session dedicated to tourism, there is still room for improvement.
Snježana Derviškadić, head of the project for regional development and promotion of tourism under the auspices of the Regional Cooperation Council (RCC), funded by the EU, stated that the region has become recognisable on the adventure tourism market, but not primarily as an "adrenaline" country, but rather as an outdoor activity place.
"Having said that, the region has been already recognised as such. In particular, the concept of Via Dinarica can be distinguished. This type of tourism is combined with a cultural heritage based on intangible heritage as tradition, music or food", Derviškadić said.
Director of Relax Tours Company and Pino Hotel, Aida Terzić, said that one tourist organisation only, cannot do much on its own.
"For the past 10 years, as the first private travel agency, we visited all the most important tourism fairs in the world, from Berlin and London, to Dubai. However, we could not achieve much as on our own. In the last three years, we have been presenting various tourism promotions together with other colleagues, as well as with the Tourist Community of the Sarajevo Canton which has made a huge shift this year", Terzić said.
Discussions on several other panels were aimed at convincing investors to put money in other sectors too. Most of the speakers stressed that BiH must meet high standards in all areas, in order to expect foreign capital into the country… / IBNA