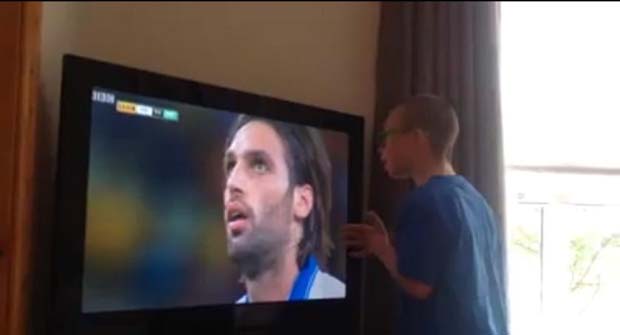 By Spiros Sideris – Athens
The moment of Giorgos Samaras' scoring with a penalty kick against Ivory Coast had another very poignant moment, this time recorded.
Little Jay, who became known throughout Greece through his friendship with George Samaras, when the Greek player took him in his arms during Celtic's fiesta for the Catholics win of the Scottish Premier Division, celebrated with his heart both the goal and the qualification of Greece against Ivory Coast.
Jay watched the highlights of the match between Greece and Ivory Coast dressed in blue to see his friend, George Samaras, score.
His parents recorded the game and he watched the specific highlight, i.e. Samaras scoring from the penalty spot, at least three times.
When the Greek forward scored, little Jay erupted in celebration chanting the name of the "gold" scorer of the Greek national team.
Little Jay gives great strength to Giorgos Samaras as the Greek striker said in an interview online from Aracaju, Brazil, while sending a heartwarming message to the young Celtic supporter.
"You give me tremendous strength. Your smile and your support, gives strength to all of us in "Ethniki" (name of the greek national team). I hope to see you soon. If you are not able to make it I will send you this jersey. I am very proud that you are my friend. I hope to see you soon, buddy", Giorgos Samaras said.
His father wrote in Facebook that, on Thursday morning they received a call from Greece to arrange for the travel of Jay and his family to Brazil, with the initiative of the Greek Football Federation, but they were already at the airport about to depart for their summer holidays.
Nevertheless, the tot who has stolen the hearts of the Greeks for his support for the national team and his idol, sent a thank you message via video, in his father's account, Martin Beatty, giving courage to the players of "Ethniki".
Little Jay, who has been diagnosed with Down syndrome, but has a great soul, told the Greek international striker that he loves him, while he appeared confident that Greece will win the trophy and in the end repeated the slogan he was shouting in every Celtic game he attended: "Come on, Sammy".