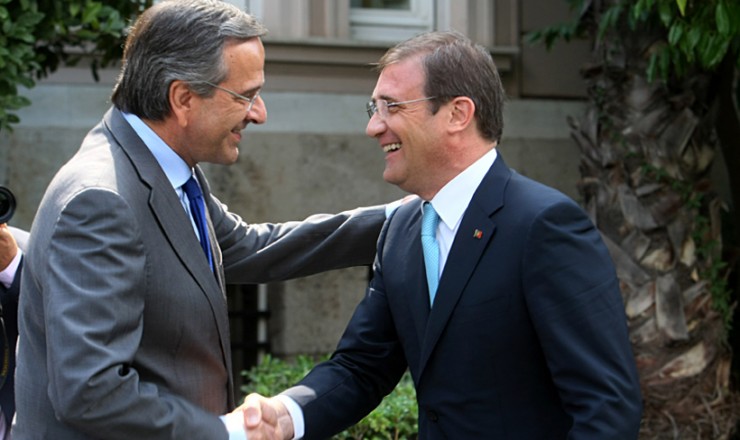 By Spiros Sideris – Athens
"The signs of economic recovery will be seen later this year", emphasized Prime Minister Antonis Samaras at the joint press conference with his Portuguese counterpart Pedro Passos Coelho.
He reiterated that government priority is to improve competitiveness, and stressed that the country is "gradually and steadily" returning back on the path of growth and leaves behind the suffocating pressure of over-taxation, as is achieved by serious countries in Europe and around the world.
Samaras underlined the need for Greece to certify the sustainability of debt for a future without understandings and new loans, and be transformed from laggard to champion, relieving the Greek people from the huge unemployment problem.
"Greece and Portugal are on the right track towards economic recovery, as well as Europe, despite its structural weaknesses", he said.
Samaras turned his attention to the recent decision by Draghi, which as he pointed out, shows that "the battling of recession is being done with determination, in a way that we welcome".
"In the last two years, Europe has taken steps that were considered unthinkable earlier. And this gives us an additional responsibility and confidence", he added.
The belief that Greece will return to growth expressed, on his part, Pedro Passos Coelho, during the joint statements of the two men at the Maximos Mansion.
Meanwhile the greek main opposition SYRIZA, in a statement issued, chastised the Greek Prime Minister's statements saying that Mr. Samaras "continues to be the Prime Minister of a country that has experienced the most brutal consequences of a barbarous social policy, for which he does not say anything".
"He does not stop rehashing, however, with unparallel cynicism, statements for exit from the memorandum, which at the same time applies at all costs for the Greek people", writes the statement.
It appears that the Thessaloniki International Fair (TIF) is acting as a catalyst for political developments in Greece and the main opposition is raising the  tones of the confrontation in view of the speech of Alexis Tsipras at TIF at the end of the week.