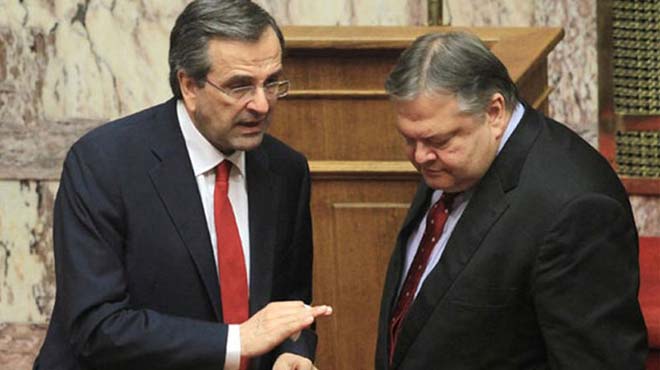 By Spiros Sideris – Athens
Prime Minister Antonis Samaras will ultimately meet with Deputy Prime Minister Evangelos Venizelos at the Maximos Mansion on Wednesday at 18:00.
Based on what was known, Samaras and Venizelos were to meet at noon on Tuesday, while Hardouvelis' meeting with the troika was in progress for the fifth evaluation of Greek program.
However, there was a telephone conversation between the two men, during which they decided that the meeting should take place after there is first a clear picture of the negotiations with the troika, which are ongoing.
Samaras and Venizelos are expected to develop a common road map on how the negotiations should proceed, that is what are the "red lines" in the negotiations with the troica.
However, the meeting between the two government partners comes at the time when their relations appear to have deteriorated, giving birth to rumors for early elections.
The occasion was the effort of Antonis Samaras from Halkidiki, in the event for the 40th anniversary of the New Democracy, to appropriate the term "Democratic Party". The response from PASOK was immediate, stating that: "The democratic party was historically and ideologically the 'other' party in relation to the ND".
The latest episode that disturbed their relations even more, was yesterday's uninvited participation of Chrysanthou Lazaridis in the Troika meeting with Finance Minister Gikas Hardouvelis.
The appearance of the partner of the Prime Minister reportedly caused the reaction of Gikas Hardouvelis, since he had informed days ago that the only executives at the meeting will be those involved in the negotiations.