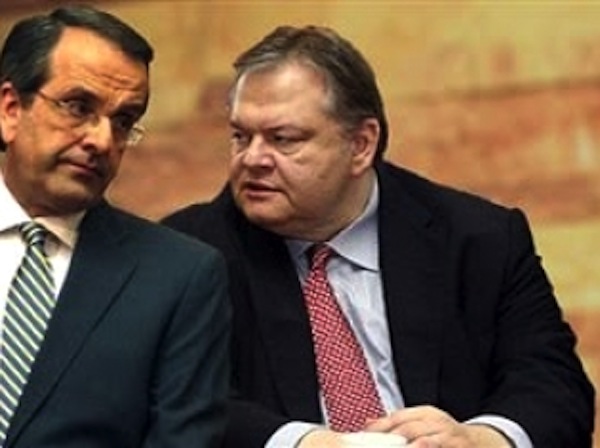 By Lefteris Yallouros – Athens
Greek Prime Minister Antonis Samaras is in talks with Socialist PASOK leader Evangelos Venizelos in order to finalize a cabinet reshuffle following the exit of the Democratic Left (DIMAR) party from the country's ruling coalition over the closure of state broadcaster ERT.
Samaras's conservative New Democracy party and PASOK together control only 153 of the 300 seats in parliament. A few independents may also back the government, and the Democratic Left has signaled it could support some reforms on a case-by-case basis.
The new government is expected to be announced Tuesday at the latest, after Samaras and Venizelos have agreed on a new policy program. Reports suggest the PASOK leader will become Foreign Affairs Minister and Vice Chairman of the government. The Socialist Party will also control a larger number of ministries and its members will also take many deputy ministerial positions.
Yannis Stournaras is expected to remain finance minister while no changes are expected at the heads of the Tourism Ministry, the Citizen Protection Ministry, the Education Ministry and the Ministry of Agriculture.
The troika is reportedly particularly keen to see a person determined to push through reforms take up the Public Administration Ministry. The new government will have to conclude talks with the troika officials who return to Athens later this month for a regular review of Greece's compliance with the terms of their bailout.
The Prime Minister appeared optimistic that the new government will pull through. "The government went through a rough patch over the last few days but it stood on its feet and continues with renewed determination and much better cooperation," he told To Vima newspaper on Saturday.
"I don't think there will be any problems (in the troika talks). We are beating overall targets … everybody agrees that in terms of fiscal adjustment we are ahead of targets. There are some partial problems with partial targets but these are addressed and will be dealt with," Samaras said.
The government may have avoided a dreaded collapse; however, it comes away heavily wounded. With the government's parliamentary majority sharply reduced, if the much touted "Greek success story" is to be realized, a series of important issues must be resolved.
The state health service is still overspending, privatizations have fallen behind, the civil service has yet to be restructured and tax evasion is still at large. These are all issues flagged by the troika.
Samaras, and Venizelos must show they have come away wiser from the ERT saga and prove critics, who maintain an early general election is just around the corner, wrong.