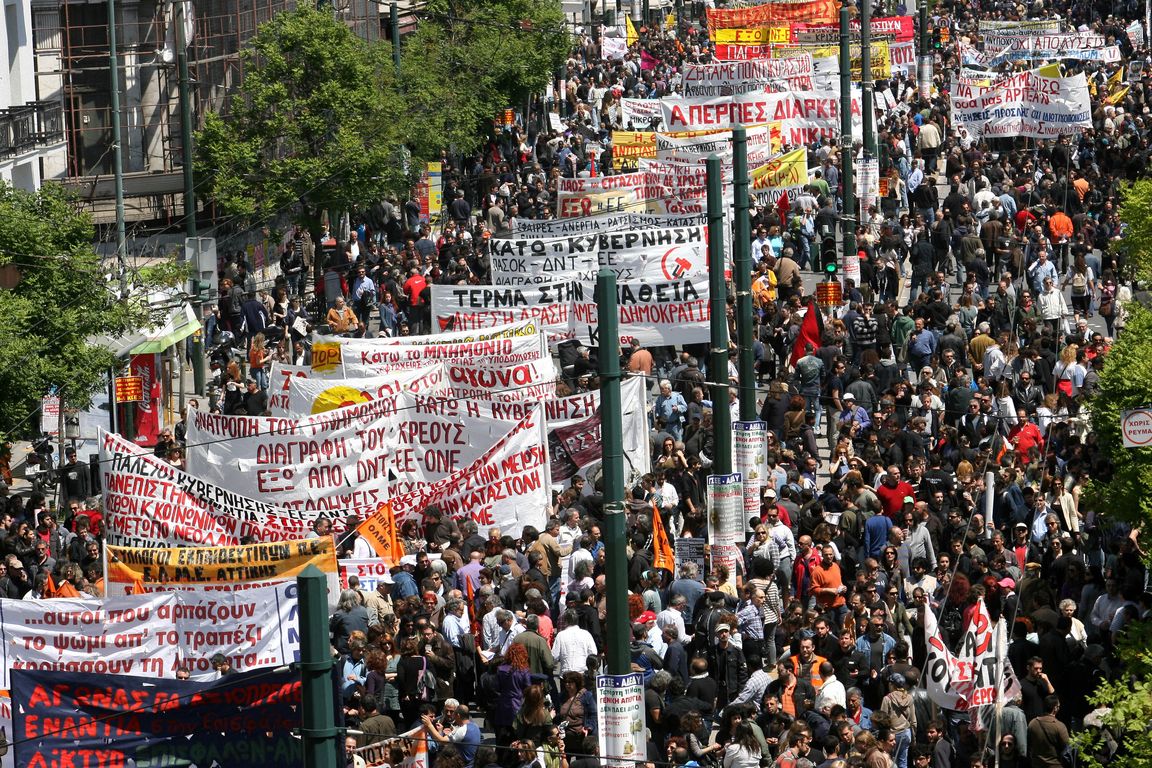 By Lefteris Yallouros – Athens
Greek main opposition Coalition of the Radical Left (SYRIZA) party leader Alexis Tsipras has called members of parliament to side with the will of the people and not the memorandum of understanding signed between the government and troika officials.
An omnibus bill will be brought to Parliament which will vote into law all the prerequisites of the government – troika deal in order for Greece to be handed bailout funds.
In an interview with "Eleftherotypia" newspaper Tsipras seeks to capitalize on voices raised amongst coalition government MPs against certain parts of the bill to be brought to Parliament.
"The measures (to be voted in Parliament) will be condemned by the people May 25th" Tsipras said.
Prime Minister Antonis Samaras has a totally different opinion.
"All predictions of a Greece disaster are proven wrong, and those who circulated them, expected them and sought them have become obsolete themselves…" the premier told the Sunday edition of "To Vima" newspaper.
The official government response came from spokesman Simos Kedikoglou who said "Tsipras has called upon deputies again to revolt. He will not succeed, but yet again he shows the quality of his character."
The new tax bill is expected to be presented in Parliament this week before being put to a vote. It includes a reduction in fines, offsetting taxpayers' debts to the state with the state's own debts to them, an increase in the minimum level of salaries and pensions that can be confiscated, certain corrections regarding the abolition of the withholding of 20 percent of royalties, and changes to indirect inspection techniques to speed up the monitoring of money forwarding.
With crucial votes coming up in Parliament (including the tax bill, measures agreed with the troika and the bank recapitalization law) before a double election battle in May (local and European Parliament elections) the strategies of Antonis Samaras and Alexis Tsipras are beginning to unfold.
The Greek PM will flag the government's strides in the economy and the end of the financial crisis which he expects to materialize fully this year. The primary surplus achieved will be the "success story" most mentioned by the premier leading up to the election. The next step will be an attempt to tap financial markets after four years just before the May election. This will signify the beginning of a new era which could be followed up by a cabinet reshuffle.
Meanwhile, SYRIZA leader Alexis Tsipras has placed all hopes on the European Parliament election. A landslide victory will throw the government deep into crisis and corner Antonis Samaras into calling a general election early 2015, paving the way for  SYRIZA-led government.