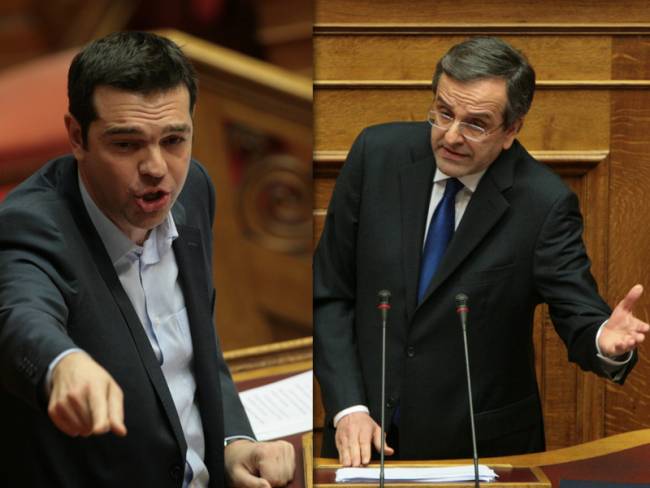 By Lefteris Yallouros – Athens
With four days to go until the May 25th European elections and the second round of Greek local elections, political party leaders are rapidly unfolding their strategies as the race nears the end.
Prime Minister Antonis Samaras pledged the creation of jobs, a series of tax cuts and a return to economic growth in the next few years while stressing that voting for SYRIZA in Sunday's election would be a step back for the country.
Presenting his growth strategy, Samaras said unemployment would fall below the EU average by 2020 as 54.5 billion euros are expected to be pumped into the economy over the next seven years. "The recession ends this year" the PM characteristically stated.
He also outlined the following five major priorities for his government: Reducing unemployment, lowering taxation, securing liquidity, bringing down the cost of agricultural production and promoting reforms.
Meanwhile, as the PM sent the message that SYRIZA would "turn the country back", Jean Claude Juncker – visiting Greece as part of his ongoing campaign for the European Commission Presidency – praised Samaras for seeing through the austerity measures which, he said, were putting Greece back on the track of economic growth.
"You have acted responsible. You have done it the hard way. There was no other way. The result is clear: Trust is coming back to Greece. Greece is becoming competitive again," said Juncker.
As the ruling Conservative party plays the economic reform card ahead of the elections, presenting SYRIZA as a threat to stability, the main opposition party has made the following dilemma a key point of its campaign: "You are either with us of with those that support Merkel".
SYRIZA is using the European Parliament campaign to push for a wider European front against austerity and form anti-memorandum alliances outside of Greece too.
"Citizens understand that the larger our victory is, the quicker memorandum policies will come to an end" SYRIZA leader Alexis Tsipras told a Greek newspaper in an interview on Tuesday. The message of change will force the government to call a general election, the main opposition leader added.
European issues have hardly been debated in Greece as campaigns focused mainly on the future of the Greek economy and which party will be better at ending austerity.