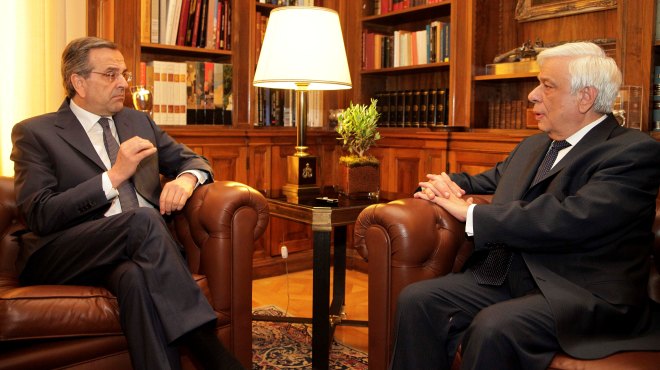 Athens, June 19, 2015/ Independent Balkan News Agency
By Spiros Sideris
His deep concern about the progress of the country and the possibility of a rupture with Europe conveyed to the President of the Republic, Prokopis Pavlopoulos, the president of main opposition party New Democracy, Antonis Samaras.
The president of New Democracy in the dialogue he had with Pavlopoulos in front of the cameras at their meeting at the Presidential Palace, regretted that this meeting is taking place under "the current dramatic circumstances", noting the risk of "the collapse of the cornerstone of our national policy, which is keeping up with Europe" – which, as he said, "would be a nightmare for the Greek people, the country's credibility, the future of the children and the security of the country, especially with what is happening in our neighborhood".
Samaras stressed that Greece's place is within Europe and within the euro and, as he said, this for the ND is a nonnegotiable national red line, which supports the majority of the Greek people. "No government has the right to question it and to put it at risk", he said.
For his part, the President said that he knows the history and the historical role of the New Democracy in Europe, but also Samaras' unwavering commitment to the european future, and expressed confidence that the president of the ND will do his part to ensure the country's path to Europe and the Eurozone.
"As far as I am concerned, the majority of who elected me, but also the mandate the Greek people gave to this House, oblige me to safeguard this course within the limits of my power", Samaras added.