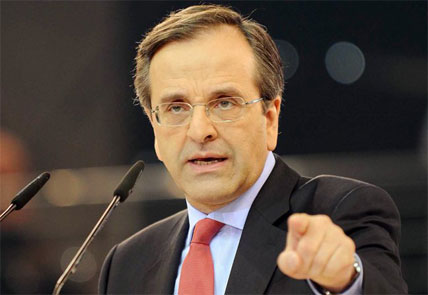 By Christos T. Panagopoulos
Greek Prime Minister, Antonis Samaras, has declared pleased on Friday by the Shah Deniz II consortium's agreement about the Trans-Atlantic Pipeline (TAP) system as the preferred conveyor of natural gas from Azerbaijan to Europe.
From Brussels, where he is currently participating at the EU Leaders Summit, Mr. Samaras said: "This is the biggest financial agreement for the last ten years. With this investment, Greece is converted into a major energy front hub, with more than 2.000 new jobs for the Greek citizens".
In addition, he clearly stated that "all scenarios about a potential Greek exit from the Eurozone are definitely out of discussion".
Greek Energy and Climate Change Minister, Assimakis Papageorgiou, had told earlier at the  Parliament "this is a special day for our country". He, along with Finance Minister, Yannis Stournaras, signed on Wednesday the Host Government Agreement with TAP, which will pass through Turkey, Greece and Albania to Italy, with a pipeline section crossing the Adriatic Sea.
The Shah Deniz II consortium, which is monitoring this project, consists of BP (UK), Statoil (Norway), Total (France) and Socar (Azerbaijan).