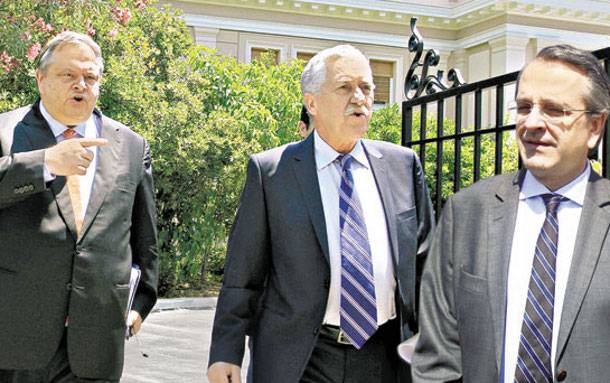 By Lefteris Yallouros – Athens
Greece plunged into fresh political turmoil Thursday night as a meeting between the country's coalition government leaders to discuss the closure of state broadcaster ERT ended in disagreement.
The coalition's junior partners, Socialist PASOK leader Evangelos Venizelos and Democratic Left (DIMAR) head Fotis Kouvelis, both discussed the issue with their MP's before going into the meeting with the Prime Minister.
At the end of the summit, Prime Minister Antonis Samaras said he had proposed a compromise of putting a temporary version of ERT back on air with up to 2.000 staff on 3-month contracts. While agreement was close, Kouvelis backed away at the last minute, Samaras said, while Venizelos accepted the proposal. The Greek premier said he would like for the coalition government to continue its course but also expressed his determination to keep the government going, even without the support of DIMAR.
Both PASOK and DIMAR held extraordinary late night parliamentary group meetings while the PM called a cabinet meeting.
Democratic Left leader Fotis Kouvelis stated after the meeting that his proposal for ERT to remain open with its entire staff until a new entity is introduced was not accepted by Samaras. Kouvelis said the PM didn't adhere to a court ruling ordering the broadcaster should reopen.
Reports suggest Mr. Kouvelis could pull out his party's ministers from the coalition government. Democratic Left Party deputies will convene Friday to discuss their next move. A government without the Democratic Left could still be viable as Conservative New Democracy and Socialist PASOK have a majority of 153 in the House.
Socialist PASOK leader, Evangelos Venizelos, speaking after Kouvelis on Thursday night said his party will support the government and called on Kouvelis to stay in the coalition. Mr. Venizelos said discussions over what entity should temporarily replace ERT edged closer to success and said the more important issue was to agree on a way to keep the tripartite government alive and make it work closer and more effectively on a brand new basis.
Agreeing to revamp the way the government operates and ushering in a new era of better coordination and cooperation which will see the cabinet reshuffled to include senior party members, at least from PASOK, could be the way forward for the coalition partners, analysts say.