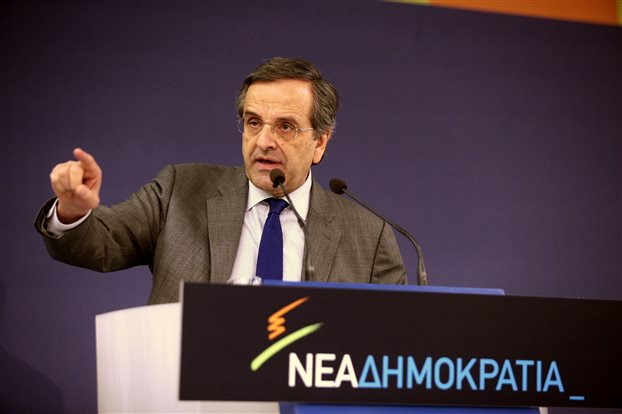 Athens, March 9, 2015/ Independent Balkan News Agency
By Spiros Sideris
His answer to the members of the New Democracy who have brought up a leadership issue and seek an extraordinary congress gave Antonis Samaras, speaking to the Political Committee of the party.
He said he was the first who raised the issue after the elections. "I'm not married to the position, but it is inconceivable for me to abandon the battle these critical moments", he stressed
He also highlighted the fact that the matter did not go through because no one raised the issue of opening the statutory procedures, adding that he stressed at this stage it would drag ND in a vicious cycle of introversion and internal "infighting", something no one would want, as it would be like "making a gift" to SYRIZA at this phase.
Former prime minister launched an attack against the government accusing it of playing with Grexit to shake off the responsibilities and load them to the people, referring to the interview of Yanis Varoufakis to Corriere della Sera, where the latter stated that if the partners do not accept the plan of the government we will go to election or referendum.
Samaras noted that SYRIZA has already been forced to admit, after the agreement in Eurogroup on February 20, that the country duting the ND – PASOK governance made good progress, although the media in the country do not admit it.
There were many reactions to the speech of former prime minister, most characteristically that of Dora Bakoyannis, as it was recorded by the cameras. While many attendees applauded Antonis Samaras when he said "end to the congress", Dora Bakoyannis not only did she not participate with her colleagues, but reacted by saying: "You don't say!".
Earlier ND MP, Nikos Dendias, speaking in MEGA television on Sunday, wondered: "We have suffered the worst defeat in our history. If we don't have a congress now then when?" and in response to whether there is a leadership issue, he said: "Only at a congress can you examine such a thing".