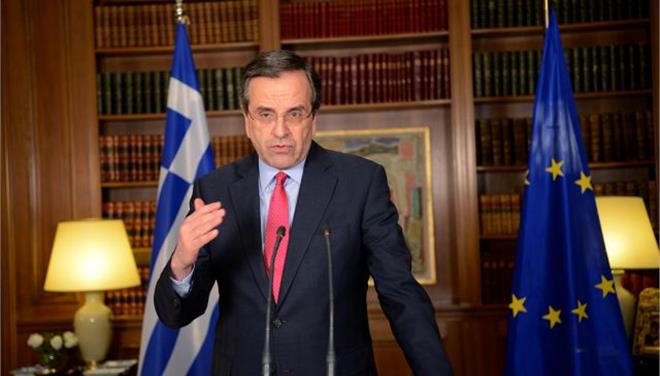 Athens, December 22, 2014/ Independent Balkan News Agency
By Lefteris Yallouros
In a televised address to the Greek people Sunday, prime minister Antonis Samaras revealed his proposal towards avoiding a snap election and reaching a compromise that would see a new Hellenic Republic president elected in parliament.
In a bid to persuade opposition MPs to back the government's proposed presidential candidate, the premier urged lawmakers to vote in favor of Stavros Dimas "and then we can find the timetable for elections even by the end of 2015."
Samaras said MPs must "listen to the voice of conscience, national interest and common sense". He also attacked opposition party leaders Alexis Tsipras and Panos Kammenos. "This unfounded string of accusations about the bribing of deputies, which are always proven untrue, cannot continue" the PM stressed.
In a rather unprecedented move, Samaras hinted at offering ministerial positions to pro-European MPs that backed his proposal. [We] "can expand with other people who believe in the European prospects of the country" he said.
Samaras also stressed the need for negotiations with the country's international creditors to be wrapped up before any polls take place, saying that "we cannot be swamped in an electoral battle right now." He also stressed the importance of holding the current Parliament together so as not to interrupt the process of a constitutional review.
Several independent MPs reacted positively to the premier's proposal. However, analysts believe no more than 170 deputies will be persuaded to vote in favor of Dimas.
SYRIZA announced after the PM's address that Greece needed "a new, strong government" and that Samaras's speech had a heavy pre-election character. Right-wing Independent Greeks and left-wing DIMAR appeared unmoved by the prime minister's offer.
A second-round presidential vote is to be held on Tuesday with 200 votes needed for a president to be elected. In the third and final round of voting on December 29 a three-fifths majority is required. A general election would be held as soon as January 25 or February 2 should parliament fail to elect a new head of state.
According to two fresh polls released over the weekend, SYRIZA continues to hold a lead over New Democracy, albeit narrowed. SYRIZA is ahead by between 2.5 and 3.4 percentage points.