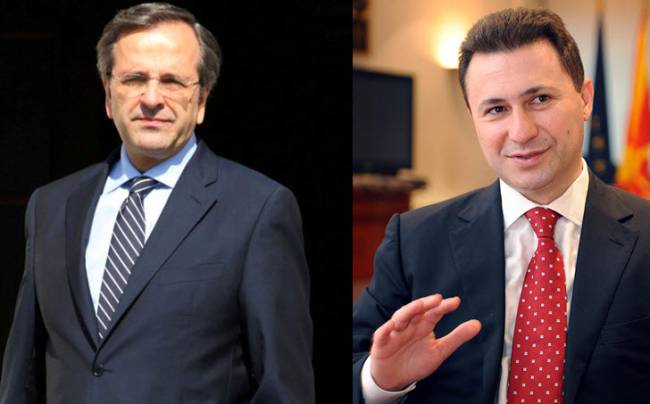 By Christos T. Panagopoulos
"We need a real and not just a pretend solution". By this phrase, Greek Prime Minister, Antonis Samaras replied by letter to his FYROM counterpart, Nicola Gruevski, rejecting any kind of political discussions with Skopje as well as an exercise of public relations.
In his letter, dated on June 15th, Mr. Samaras noted that "if both parts involved had shown the same political will, the same political courage and the same desire for a resolution, this issue would have been solved long ago. But, obviously, the true matter lies elsewhere".
Furthermore, replying to Mr. Gruevski's request for political negotiation, he cleared that "any meeting between us, if it is not accompanied by tangible elements of political will and sincere engagement, it will cause false impressions, and it will be, as I am afraid of, as though making public relations exercises and nothing more than that".
FYROM's Prime Minister, in his letter to Mr. Samaras, dated on June 27th, had asked the appointment of "groups by political order", which, under the auspices of Matthew Nimitz would find a solution for his country's name. His Greek counterpart replied that "solution will not come out by appointment of more negotiators" and reassured his full political order towards the Greek negotiator, ambassador Adamantios Vassilakis.
"It is not Greece blocking FYROM's admission in the European Union, but it is a common political stance, as there was no relevant positive suggestion about its European integration in the relevant Commission's reports", stressed Mr. Samaras.
Concluding his letter to Mr. Gruevski, he repeated once more that Greece has shown in the past her will to consolidate good-neighbourly relations and didn't miss the chance to criticize heavily Skopje government's stance, saying that "not only have they been obstructing our mutual understatement, but – and this is the most crucial – they keep turning your people against Greece".