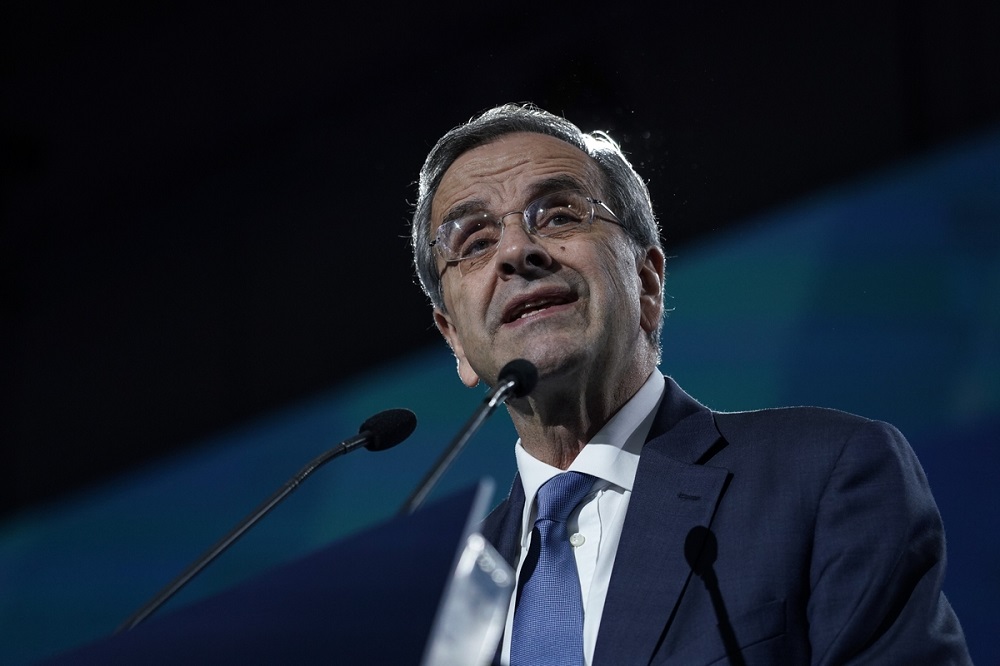 Former Prime Minister Antonis Samaras, speaking at the closing of the 13th New Democracy Congress, criticized the country's leadership for the position it kept regarding the Macedonia dispute, but also regarding the migration issue and Greek-Turkish relations.
Mr. Samaras unfolded his own agenda of the patriotic right against the neo-liberal proclamation of Kyriakos Mitsotakis had set at the opening of the Congress – though he had refrained from making any ethnic references when presenting the political and ideological mark New Democracy has left.
Antonis Samaras also clarified that his views remain undebatable regarding posts both inside and out of the country, referring to the position of the Commissioner, which is gone, and especially to that of the President of the Republic. Early estimates by party officials are that the whole agenda and criticism by Antonis Samaras is a foretaste of the imminent conflict.
Release from the Prespa Agreement
Starting with the Macedonian dispute – which Kyriakos Mitsotakis did not mention in his two speeches at the opening and closing of the Congress – Antonis said: "We cannot end up sugarcoating an Agreement that we ourselves have denounced as 'harmful' and 'unacceptable' ", completely drifting away from the course Maximos Mansion follows, as it now supports the European prospects of North Macedonia. He went on to say: "The question is, of course, what we happens from now on … Let me say one thing first: When you fight a battle, it doesn't matter whether people around you are getting tired. The only thing that matters is that you continue to care about a fight that – you know – is of great value … The political question remains how we set ourselves free without paying any costs. And it's not easy; it doesn't happen overnight – yet it is possible. Because this is an agreement that does not seem to work, neither inside or outside; nor in the Balkans, nor in Europe … ".
He also appeared skeptical of the way the Government has been addressing the migration issue, stressing that back in the days of his governance the matter had been approached through a policy of deterrence and closed centers and nothing less. "There is only one issue where everyone agrees to be dissatisfied. That is the phenomenon of illegal immigration", he straightforwardly went on to say, and speaking of an invasion of illegals, he added: "… Back then, we used to guard the borders. And those who passed by – or those who were already here illegally – were being sent straight to Amygdaleza and a couple more closed centers … And from there, after a short time, they voluntarily left for their homeland. Directly – not through Turkey! … Closed centers, therefore, need to separate the illegal children from the illegal ones… This policy has been implemented, and it was proven fruitful. This policy can work again. There is no alternative… ".
Greek-Turkish Relations: appeasement movements do not help
Mr. Samaras extended his criticism against Mitsotakis to the Greek-Turkish policy, linking it to the Macedonia dispute: "Shortly before the Prespa Agreement was signed, I had stated that on that day they were demanding that we surrender to the irredentist demands of the weakest country of the two- that is, Skopje! And tomorrow they will ask us to step back against the imperialism of the most powerful country – Turkey! That is what I had said back then … And that is exactly what it is being said today!".
After mentioning the climaxing provocations by Ankara, he added: "a new policy towards Turkey is needed … The invocations on international law alone are not enough … Appeasement moves are of no use either!" To make sure he was being clear, he concluded: "They want Greece to become the punch bag against any demand by any neighbor! Is it possible that this School of Thought implies the Finnishization of Greece? I tell them: "Finnishization" shall not pass here! Some dream that they will "solve" our differences with Turkey, in the same way they think they "solved" the Macedonia dispute! Last year, SYRIZA ministers were telling us not to be "greedy". About our sovereign rights! That is, they were talking about a complete retreat on behalf of Greece! …". This constituted a response to statements made by the advisor to the Prime Minister Thanos Dokos, who outlined a compromise policy that does not exclude co-exploitation.
Summing up, Antonis Samaras, against a "Political Liberalism with Social Solidarity", which was the mark set by Kyriakos Mitsotakis, added the patriotic component of New Democracy, that the Prime Minister had left out of the picture: "… We are Liberals -and we are proud about it! We are Patriots – and we are proud about that as well!". /ibna