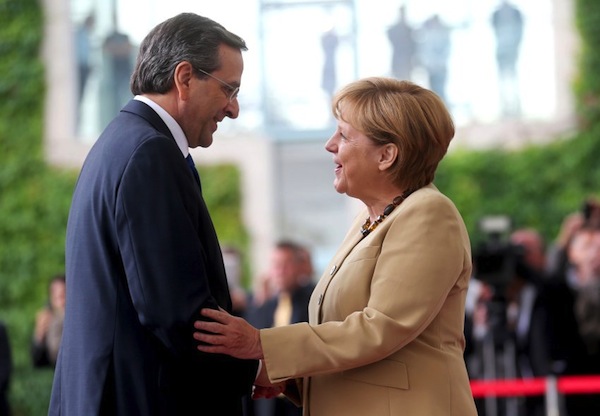 By Spiros Sideris – Athens
Developments in the Greek economy were the focus of the meeting, on Wednesday afternoon, in Brussels between Prime Minister Antonis Samaras and German Chancellor Angela Merkel on the sidelines of the EU summit.
The meeting, according to a statement issued by the government, lasted for 40 minutes took place in a good climate, in the presence of Finance Minister. Gikas Hardouvelis, who had his first acquaintance with Merkel.
The Prime Minister and Finance Minister debriefed the Chancellor on the good course of the Greek economy, the second exit on the bond markets and the increase in tourism and the related revenues.
The German chancellor was informed about the latest developments and noted to the Finance Minister that Greece chose a difficult day to adress the markets, suggesting that she shares the reason for the partial success of the outlet.
There was also a discussion on the relations with China in light of the two recent visits of the Asian country's Prime Minister and President in Greece.
Merkel, who visited Beijing recently exchanged views with Samaras regarding the relations between the two countries and the EU with China. Germany attaches importance to its economic relations as it is the only country that has trade surplus.
On the table was also put the issue of banks and the overall implementation of the greek program. The meeting took place just after the Troika had completed its visit, while its scheduled to return in the second half of September for the substantial and broad evaluation of the greek program, which will determine to a significant extent the beginning of the negotiations for the sustainability of the greek debt.
Athens wants flexibility from its lenders, so that the government can present a tax relief programme in September, while at the same time avoid any delays regarding the start of the negotiations on the debt, which is scheduled for  the end of October after the stress tests of the greek banks.
The greek government is investing in these two issues in order to detain social discontent and to improve the political climate in order to control political developments and avoid early elections due to a potential inability to secure presidential majority.
On Friday, the Prime Minister will have a working lunch in Rome with his Italian counterpart, Mateo Renzo, whose country took over the EU Presidency from Greece. In the previous summit, Renzo, in consultation with the President of France Hollande had asked for the exhaustion of the flexibility of the Financial Stability Pact for countries that are undertaking ​​reforms.