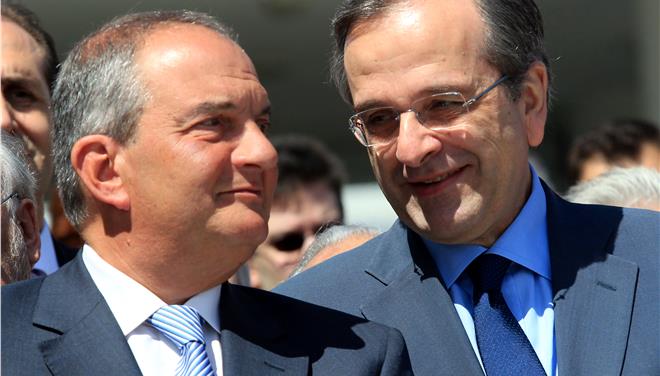 Athens, February 17, 2015/ Independent Balkan News Agency
By Spiros Sideris
Antonis Samaras and Kostas Karamanlis decided to try and ease intraparty tension during a telephone conversation on Monday at noon, since the atmosphere has charged dangerously in view of the critical meeting of the New Democracy Parliamentary Group on Thursday.
In the shadow of information that central ND MPs are ready to put forth a leadership issue in the forthcoming PG meeting, Samaras took the initiative and called Karamanlis – according to a leak from Sygrou.
The main issue in the discussion was the intraparty situation and was agreed that there should be a de-escalation, while the two men particularly emphasised on the crucial turning point of the government's negotiations with the country's institutional partners.
According to information, Samaras asked Karamanlis to intervene to stop the cycle of questioning and critical statements by certain party members and MPs who meet with the former Prime Minister and are described as "pro-Karamanlis", thus passing the message that these interventions have been approved.
Karamanlis was clear. "I neither approve nor promote. I don't get involved and I cannot control what they do and how they move those who come to meet with me. They ask to see me and talk and I accept", Karamanlis allegedly said, and was a proponent of the view that there shoul be a de-escalation of tension.
Karamanlis was crucial too keeping tensions low, since he is a factor of stability in the center-right and information say that he put all intraparty conflict "on ice" with the message that "this is no time for introspection". After this development , the planned meeting of "14" in the house of Dora Bakoyannis was canceled, while the dinner with the 25 MPs which organises on Tuesday evening Notis Mitarakis will probably go through as sheduled.
Karamanlis and Samaras also discussed developments in the negotiation between the government and institutional partners and there was an understanding that when the country gives a critical battle it is not time for the main opposition to deal with its intraparty matters.
In recent times, due to the uncertainty in the negotiation with the institutional partners, there are suggestions to postpone the meeting of the PG until next week.