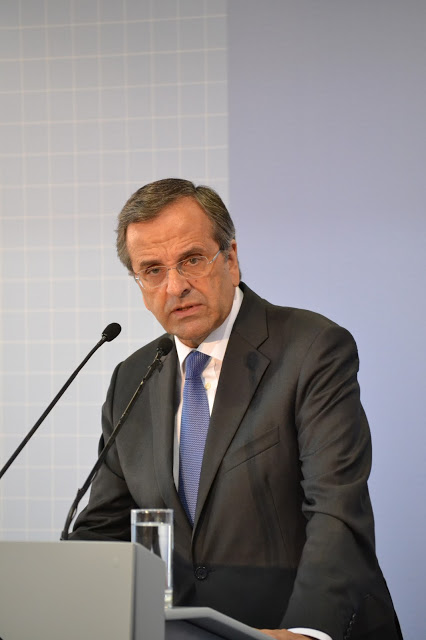 By Lefteris Yallouros – Athens
Speaking at the 78th Thessaloniki International Fair, both Prime Minister Antonis Samaras and his coalition partner and Foreign Minister Evangelos Venizelos appeared optimistic that Greece is well on track towards economic recovery in 2014.
Samaras said in his speech on Saturday, a primary budget surplus will be achieved at the end of the year and no additional measures will be needed.
Speaking on Sunday, Venizelos stated Greece has run "4/5 of the way towards a safe and outright exit from the crisis the scrutiny of its European partners and lenders".
Interestingly enough, however, while Venizelos went on to dismiss any chance of an early general election being called while the PM chose some rhetoric that may hint a general election could come sooner rather than later.
Mr. Samaras was particularly critical of main opposition SYRIZA – the Coalition of the Radical Left – and brought back the so-called "theory of two extremes" which places SYRIZA at the far left of the political spectrum and Golden Dawn – the neo-Nazi party – at the far right.
Attempting to present the main opposition party as the opposite extreme of a xenophobic neo-Nazi party is thought to be the kind of pre-election talk that would make New Democracy appear the sensible, middle-ground, responsible choice the country needs.
While recent polls suggests New Democracy maintains a slender lead over SYRIZA and Golden Dawn is currently third, it seems the conservative party is already preparing for an election in 2014, with the PM opting for polarizing tactics sooner rather than later.
With European Parliament elections coming up in May 2014, Samaras may consider a general election at the same time will put a lid on a protest vote and the rise of the neo-Nazi party. Coupled with good news for the economy, an election in 2014 could be an attractive option for the government that will give it hope of staying in power.