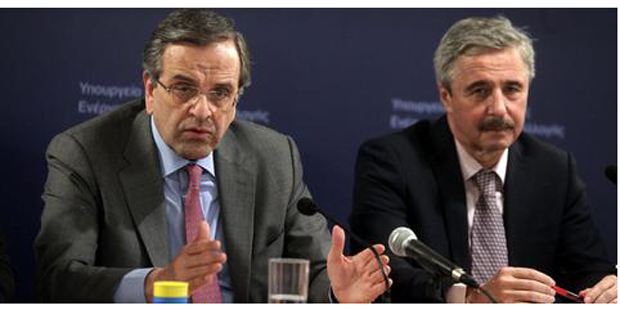 By Lefteris Yallouros – Athens
Following the announcement of an agreement between Greek gas company DEPA and Russia's Gazprom for a 15 pct price cut on the supply of gas to Greece, Prime Minister Antonis Samaras visited the Energy Ministry on Wednesday.
In light of the agreement with Gazprom, Samaras was quick to present a road towards energy independence and export options in future.
The Greek premier said the exploitation of the country's subsea energy deposits are potentially worth EUR 150 billion. Such revenue could be raked in over the course of 25 to 30 years.
He spoke of «strong indications» of sizeable energy reserves in the Ionian Sea and off the coast of Crete. The PM also mentioned his government's strategy for the exploitation of energy resources, outlining five key points:
·         a transparent process for the research and exploitation of energy resources;
·         respect for the environment and the securing of as many jobs as possible in the sector for Greek workers;
·         the efficient exploitation of Greece's potential geopolitical role in providing energy to Western Europe;
·         channeling a portion of future profits into the welfare system;
·         the energy sector working in tandem with other economic sectors.
Energy is an important sector for Greece in its effort to put the economy back on track as it is estimated that the country Greece could be home to 4.7 trillion cubic meters of gas. The gulf of Patras is thought to hold some 200 million barrels of crude oil, while another 50-80 million barrels are believed to lie near Ioannina and another three million barrels near Katakolo.
Deals for the exploitation of hydrocarbon reserves in Ioannina, northwestern Greece, and in the Gulf of Patra, are expected to be signed imminently.
Furthermore, Norway's Petroleum Geo-Services (PGS), which has carried out offshore seismic tests to determine the extent of the country's energy reserves, has started presenting its findings at energy forums around the world and is expected to release a comprehensive overview by early April.
Ahead of tricky elections on two fronts in May, it may seem that the Prime Minister is attempting to put out some good news – albeit optimistic – about the economy. More importantly, however, the government appears to be taking steps in the right direction towards eliminating obstacles that have kept investors away from the country's energy sector in the past. Most notably, reports in the Greek press suggest the Finance Ministry is offering firms interested in exploiting hydrocarbon reserves off Ioannina and Crete a stable tax framework for the next 35 years.
Political stability is also important to investors making a commitment for a 30 year course. With main opposition SYRIZA currently leading polls, it is interesting to see if they will be dragged into a debate in coming days over whether or not they would include the nationalization of oil and gas reserves in their plans.