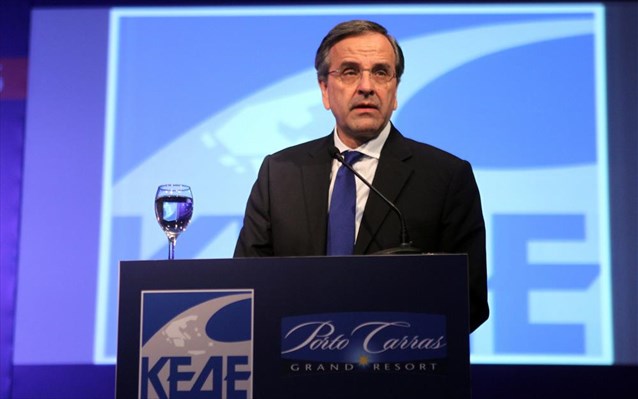 Athens, May 08, 2015/ Independent Balkan News Agency
By Spiros Sideris
The view that the government leads the country to a "worst memorandum" and that the cost of the new program will be for citizens 14 times greater than the corresponding measures of the mail Hardouvelis, was expressed by the President of New Democracy Antonis Samaras, in his speech at the annual conference of the Union of Greek Municipalities (KEDE), held in Porto Carras in Halkidiki.
In fact, he accused the government of "bad theater" with the "supposed negotiation" and that it "humiliated the country with the" wows of "Mr Varoufakis".
"They didn't receive a mandate to destroy the country and if they find that they can't do what they promised, let them help the country out of the impasse in which they lead it", he said and expressed the view that "the people will set them aside and punish them like they deserve".
With regards to the position of ND, he said it will help not the government, but the country, and it will not allow the government to throw the country to the rocks.
As he said, a lot of time was lost, but Greece can still emerge from the crisis, and urged everyone to "correct the mistake together".
The government had no plan, added the president of the ND. "They promised increases in salaries and pensions, and today the world is anxious whether their wages and pensions will be paid at the end of the month", he said.
He also stressed that it legislates with legislative acts, while Syriza had characterized them as "Junta-type inspiration" and "constitutional aberration".
Samaras admitted that the previous government had made mistakes but said that they planned a gradual decrease of ENFIA, and referred to the guaranteed minimum income, the heating allowance and insurance of uninsured in which he said, had realized.
Samaras was also highly critical of the government in regard to the legislative act of government for the cash reserves of Municipalities and Prefects, noting that in contrast, in his government "nobody dreamed to put a hand on the cash reserves of Municipalities and Prefects", and addressing the elected officials of local governments, he said that they will ask the permission from the minister 15 days in advance to manage their money.
In this context, he added that the government is trying to "strangle" and "run over" the local government.
Samaras said "yes" to some changes in the "Kallikrates", mainly on the islands, and "no" to complete change, because it would be "detrimental" and can cause constant conflicts and local conflicts.
At the beginning of his speech, the president of ND reported on his meeting earlier with representatives of workers in the investment of the goldmines in Skouries, Halkidiki, and left spikes against the government, saying: "The miners are fighting for work and investments, alas in an environment that abhors and has an ideological conflict with investments and private initiative".