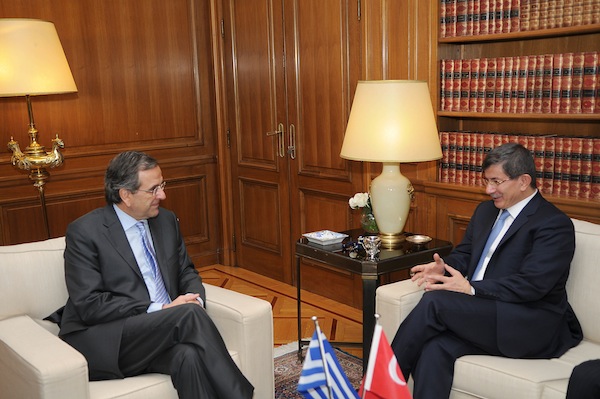 By Spiros Sideris – Athens
With his Turkish counterpart, Ahmet Davutoglu will meet in December the Greek Prime Minister Antonis Samaras, within the scheduled meeting of the Supreme Council of Cooperation between the two countries. According to the announcement of the Ministry of Foreign Affairs, the meeting will take place in Athens on December 5-6.
This is the third council between the two countries and this time will be held in the wake of recent turkish provocations focusing on the EEZ.
The escalation from the side of Ankara was the main topic of discussion at the Presidential Palace, at the meeting of the President of the Republic with Evangelos Venizelos at the Presidential Palace.
Venizelos briefed Papoulias on meetings of the Prime Minister in Nicosia and the tripartite meeting in Cairo.
"For me it was the fourth visit to Cairo in 14 months and what happened is very important. But I want to place it in the broader context of systematic policies implemented over the past 18 months for the delimitation of maritime zones, not only in Egypt, but also in Italy and Albania. There is also  Libya and of course, there are the exploratory talks with Turkey.
All are assembled into a single defense policy and the sovereign rights of exploitation and utilisation of mineral resources. And this is something very important".
"Based on the law of the sea", noted the President.
"The great achievement of the Tripartite Conference is an invitation that we send to all the countries of the region to accept the UN Convention on the Law of the Sea and act within it", Venizelos added.
On the observation of the President of the Republic that Turkey is not part of this, the vice president and Foreign minister noted that Turkey no longer accepts the validity of customary international law of the sea and this is very important.