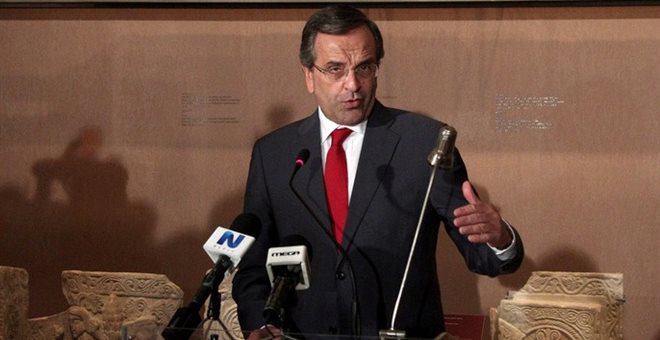 By Spiros Sideris – Athens
"The culmination of the government's efforts will be the reunion of all the sculptures of the Parthenon, which is a permanent, stable, essential demand from us", said Prime Minister Antonis Samaras in his speech for the return the manuscript of a 12th century Gospel from the Getty museum.
"On the occasion of its return (manuscript), I would like to highlight the ongoing efforts made ​​by the Ministry of Culture in order to substantiate in a scientific undeniable way the demand of Greece for the return of all its cultural treasures that have been illegally exported from its territory. This effort is continuously justified from the results that we have. But we must continue. And of course, the climax will be the reunion of all the sculptures of the Parthenon, which is constitutes our permanent, stable and essential demand", stressed Samaras.
As the Prime Minister pointed out, however, for the illegal export of our treasures "the responsibility weights not only on the recipients, but unfortunately to the unscrupulous Greeks, who do not hesitate to not only sell out our cultural heritage, thereby irreparably injuring our historical memory, but also boast of their crime".
In this context, he stressed that a new form of cooperation between the Ministries of Culture and Public Order has began and has already started bearing fruit. "And I can assure you that those who commit crimes against the cultural heritage of our country, should be ready to face the consequences of their act", he warned.
He also described the manuscript of the Gospel as "a strong evidence of the cultural legacy and the Orthodox Tradition of the "Mount Athos".
Regarding the tomb of "Kasta" Samaras said: "I hear only the excavator in Amphipolis and her findings. This finding has global significance, far beyond our narrow borders. And so we have to be serious and tight-lipped".