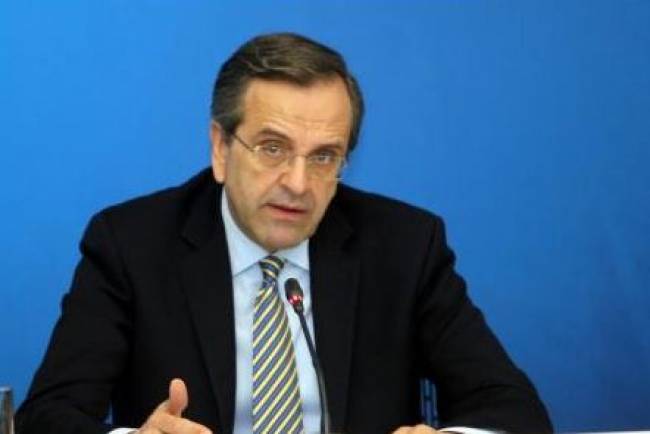 By Lefteris Yallouros – Athens
"The coalition government may have ideological differences but our successes are common and credit is shared," Greek Prime Minister Antonis Samaras told New Democracy party members at a convention in northern Greece, Sunday.
Government junior partners, socialist PASOK and left-wing DIMAR, have been pushing for a cabinet reshuffle lately and Samaras will be eager to talk out differences with PASOK leader Evangelos Venizelos and DIMAR chief Fotis Kouvelis.
It will be a difficult task. Venizelos and Kouvelis are keen on pushing through policy changes (such as VAT cuts) in light of last week's IMF report admitting mistakes in Greece's first foreign bailout, signed in 2010.
While a cabinet reshuffle isn't probable before September, Samaras will have to lay out a strategy to achieve maximum gain for Greece from the IMF's "mea culpa" while defending reforms and austerity measures in line with the highly unpopular troika – sponsored adjustment program.
Government officials reportedly appear confident Samaras could request troika approval to push back public sector layoffs and lower VAT rates for food services. In any case, the government isn't prepared to push too far as it is evident that the troika isn't open to accepting any changes to the adjustment program.
Latest polls show New Democracy maintains a slender lead over main opposition, Coalition of the Radical Left, SYRIZA with 27.9 pct against 25.6 pct. As long as even a slight lead upholds, the prospect of calling an early general election will always be an option for Samaras.
In the meantime, the premier's focus is on defending government policies, pushing through reforms and proving that a Grecovery is truly underway, against opposition criticism and blames of "destroying the country".
Addressing a party audience, Samaras also said that the IMF's mistakes will be discussed in Parliament, in due course, and maintained that he had warned of errors in the adjustment program early on but his cries were never heard by the troika.
He attacked the main opposition of attempting to dent the recovery effort and fighting foreign investments. He spoke of "professional nihilists" and went on to thank his coalition government partners for keeping the country "on its two feet".