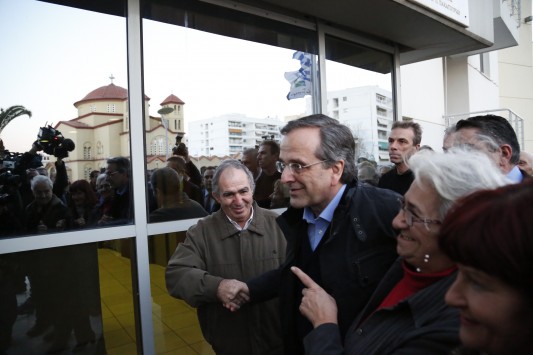 Athens, January 16, 2015/ Independent Balkan News Agency
By Spiros Sideris
Minor tension was created during incumbent Greek prime minister Antonis Samaras' visit in the City Hall of the district of Athens Peristeri, when citizen verbally attacked the Prime Minister, accusing him of contributing to the high unemployment in the region. Andreas Papamimikos, Policy Committee secretary of the New Democracy was also attacked.
The spirits calmed after the intervention of those who were more composed and the visit of Samaras was completed with a brief speech.
"On January 25 we do not decide which party we want, but what in which Greece we want our children to live in", said Antonis Samaras.
The prime minister pledged that by 2015 there will be no Memorandums, there will be no reductions in wages and pensions and that there will only be development in conditions different than yesterday, "because Greece has come out of the damage it had suffered and with the sacrifices of the people we will have this growth".
Samaras stressed the need for consultation, consensus and alliances. "To realize that no one stands alone as an emperor", he said, pointing out that since Konstantinos Karamanlis put Greece in Europe, all subsequent prime ministers, including himself, continued the pro-European policy for Greece.
In relation to this, he noted that the coalition government, initially with the participation of Fotis Kouvelis and in the end only with the participation of Vangelis Venizelos, was an unprecedented alliance, because he had the common denominator, which is called Europe.
"I say to you. If ND wins the election, which will happen, even if we achieve a clear victory, I will again seek alliances with all pro-European forces, because that is what's necessary", he went on and criticised SYRIZA withouut naming it.
Samaras stated that he has against him a candidate, who called on the KKE and ANTARSYA to form a coalition, parties which Samaras stated respects, but "are eminently against Europe".
The prime minister added that the response of the Communist Party was negative, while for SYRIZA said that "when they saw that they have no allies, they changed their tune and spoke the word "self-reliance".
"What they meant was inability to form alliances. Because they have no one to stand by them, they have baptized it "self-reliance". The people do not believe this fairy tale", added the incumbent Prime Minister and said that it is an honor for him to be in the western districts (of Athens).
"I know that here there are wounded people who protest and are angery. But I know that those who got wet do not want to drown. They will struggle and will have our undivided support and assistance and they will manage", Samaras concluded.