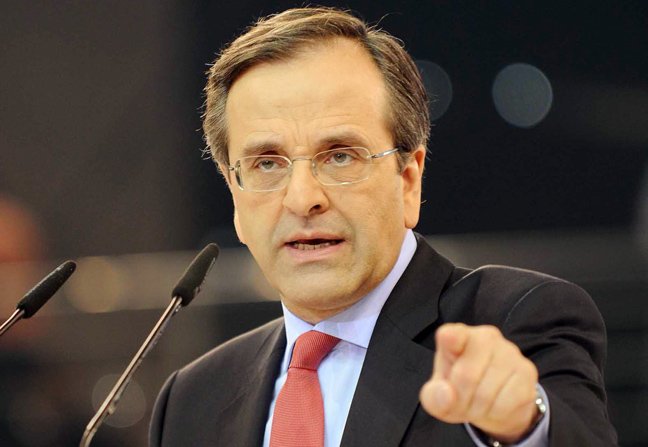 Review by Christos T. Panagopoulos
Greek Prime Minister, Antonis Samaras will inaugurate the 78th Thessaloniki International Fair (TIF) at 10 am on Saturday. The opening ceremony will be held at TIF's Corona Hall and afterwards Samaras will deliver an address to representatives of the local authorities and entities.
His annual state of the economy address, traditionally delivered by prime ministers on the opening day of the Thessaloniki International Fair (TIF), is expected to be delivered around noon tomorrow, Saturday.
The TIF will open its gates to the public at 12:00 noon on Saturday, until midnight.
Main opposition SYRIZA leader Alexis Tsipras will visit Thessaloniki twice. Tomorrow, Saturday, he is scheduled to meet with union representatives of the Hellenic Vehicle Industry ELVO (12:30 pm) at the party's offices, where he will also meet with Bolivian Culture Minister Pablo Cesar Groux Canedo, who is visiting Thessaloniki separately (1:30 pm). Later in the day, he will attend a major protest rally organised by the major labour unions of GSEE (private sector and ADEDY (public sector), the Thessaloniki Labour Centre and the Thessaloniki Union of Civil Servants. Afterwards he is expected to give a press conference at the building of the former public broadcaster ET-3, to be included in broadcasts transmitted by former ET employees from the premises.
Tsipras will come to Thessaloniki again on Friday, Sept. 13, to address an open SYRIZA rally. On Saturday he will visit the TIF grounds and meet with representatives of local entities and on Sunday he will give a press conference.
PASOK leader Evangelos Venizelos is expected in Thessaloniki on Sunday 8 September. At 10:00 am he will have a meeting with the TIF-Helexpo management and at 11:00 am he will speak at an event with the participation of the local productive entitities.
Independent Greeks leader Panos Kammenos will be in Thessaloniki from Monday 9 until Thursday 12 September. On Monday at 8:00 pm he will speak in an event organised by the Geopolitical Studies Institute at Macedonia Palace hotel. On Tuesday noon he will give a press conference at Vellidio Congress Centre and on Wednesday at 8:00 pm, Kammenos will speak at Independent Greeks Youth General Committee meeting. On Thursday he will attend a meeting of his party's National Congress to be held at the Grand Hotel at 11:00 am.
Democratic Left (DIMAR) leader Fotis Kouvelis will be in Thessaloniki on 11 and 12 September (Wednesday and Thursday). On Wednesday at 6:00 pm he will meet with young farmers and at 8:00 pm he will speak for DIMAR's cadres at Thessaloniki Town Hall. On Thursday at 11:00 am, Kouvelis will tour TIF and at 12:00 he will give a press conference.
Communist Party of Greece (KKE) leader Dimitris Koutsoumbas will visit Thessaloniki on September 13 and 14 (Friday and Saturday). On Saturday at 9:30 pm he will speak at the Communist Party Youth Organisation (KNE-Odigitis) Festival that is held at former military camp Pavlos Melas.
Tsipras, Kammenos, Kouvelis and Koutsoumbas have stated that during their stay in Thessaloniki they will visit the former national broadcaster ET3's premises to express their support to laid off staff who are still broadcasting newscasts from the station.
Source: AMNA