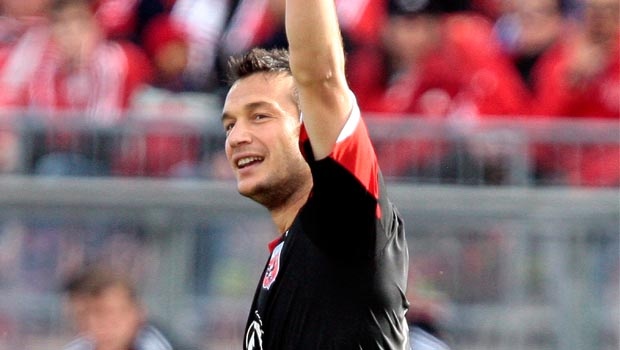 With ten goals from 43 international caps, Albania forward Hamdi Salihi sits sixth among his nation's all-time scoring greats and is the top-scorer in the current squad managed by Gianni De Biasi. Still more impressive though is how effective this goal-getter has proven to be, with seven of his goals being match-winners.
His latest effort came in March's 2014 FIFA World Cup Brazil™ qualifier against Norway, when the 29-year-old scored the match's only goal on 66 minutes as Albania stunned the strongly-favoured hosts. Captain Ervin Bulku provided the assist, before Salihi settled a tight contest with a sublimely-executed right-footed shot.
"It was a memorable game during which I scored the match-winning goal," the softly-spoken Jiangsu Sainty marksman told FIFA.com in a recent interview. "Norway are a strong side with a great deal of World Cup experiences, but we did well in keeping them at bay before my decisive strike. It was a massive boost to our qualifying hopes."
Indeed, this result saw Albania move level with Iceland on nine points and, after drawing 1-1 against Norway in the return at home last month, they moved a point clear in second place, trailing leaders Switzerland by four points. With four matches remaining, the Albanians' hopes of a maiden FIFA World Cup qualification are very much alive.
"We are in a good position now," continued Salihi. "There is a gap between us and Switzerland but there are still four matches to go so we have chances of overtaking them and taking first place. Even if we fail, we can stick to the current position and try to qualify as the best second-placed finishers."
Global journey
Hailing from Shkoder, Salihi began his career as a teenage with hometown-based KS Vllaznia. After a short period of acclimatisation he quickly developed into one of the country's most promising goal-scoring talents and in 2004 he made a high-profile move to Greek club Panionios at the tender age of 20.
His first overseas odyssey, though, ended in failure. But after returning home the following season, he joined KF Tirana with whom he quickly established himself among the league's deadliest strikers. 29 goals from 33 matches in a single season was the tally Salihi achieved with the capital side in 2006, a record which saw him ranked among the world's most prolific top division goal-scorers that year.
Having further honed his skills and gained further experience, he again cast his sights beyond Albania's borders, moving to Austria in 2007 where he spent five successful seasons with the likes of SV Ried and Rapid Vienna. He would leave for pastures new last year joining Major League Soccer's D.C. United, before signing for Jiangsu in China PR at the start of this season.
Despite an at-times turbulent journey, Salihi is grateful for the career he has had thus far. "Over the past decade I have played with a series of teams from different countries and I am thankful for all these chances given to me," he said. "Leaving home as a youngster was an advantage for me. The overseas career made me strong in both football and life. I have gained good experiences both on and off the pitch."
Cause for optimism
In a sense, Salihi stunned his fans when he decided to go to the Chinese Super League, making him the only Asian-based player of coach Biasi's Albania squad. For him, however, it was a childhood dream realized.
"I knew China as a child because we lived in a building constructed by Chinese," said Salihi. "Before my birth, in 1979, an earthquake devastated our homes but with help by Chinese workers and architects we had new apartments built. It was good to have a chance to see the country."
"And even when I played in Europe, I heard much about the Chinese league, which has attracted some of the world's top-class coaches and players. Jiangsu is a strong side who finished last season's runners-up. The club's general manager is Yang Chen, a former Frankfurt player. We have good communications and he provides me with inspiration."
As expected, Salihi has continued his goal-scoring ratio with the Nanjing-based club, netting eight times from sixteen appearances. And he has made more of an impact than merely a goal-getter, a fact evidenced by his performance in the Chinese Super Cup final when he had a hand in the club's two opening goals as Jiangsu overcame Marcello Lippi's star-studded Guangzhou Evergrande for the crown.
Maintaining his performance level, the in-form forward sees a prosperous year ahead with both club and country. "Jiangsu dropped a lot of points early this season but I hope I can help my team gain lost ground. At the national team level, Albania are hopefuls of the group and I hope we make history by going to Brazil 2014."