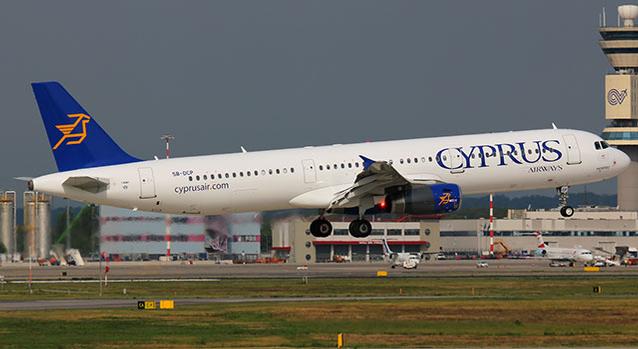 Nicosia, December 8, 2014 / MAXH
By Athos Evaggelidis
To the ownership of the government has passed the famous "Agrino", that is the logo of the commercial name of the national carrier of Cyprus. In a "mat" move the government and company reached an agreement in the last 24 hours for the transfer of the logo and its concession back to the airlines for a rent, for the amount of EUR 1.2 million. The move was highly imperative, so that if developments for the future of CA are negative, as information indicates, the logo and trade name could be salvaged and form the basis for a new company.
Despite the reactions of the opposition parties, information of "M" says that the new Board of Directors of the company implements an urgent plan to increase the minimal chances for the rescue the national carrier.
The agreement with the potential buyer is close to completion, thereby creating the need for a significant special budget that will bring the company closer to the aim, which is not creating new damages.
MEP of DISY and ELK, Eleni Theocharous, with a letter to the European Commission President Jean-Claude Juncker and European officials, raises the necessity of the rescue of Cyprus Airways and indicates that the Turkish embargo is one of the main causes for the company's deficit. Therefore, compensation should be paid by Ankara and not the Republic of Cyprus.
Meanwhile in a letter to the President Nikos Anastasiades, the Secretary General of AKEL Andros Kyprianou proposes four concrete steps on an ultimate rescue effort of the state airline. The four steps proposed by Mr. Kyprianou are:
1.The Immediate cancellation of irregular procedures for the selling out of C.A.
The creation of a support group with enhanced expertise in order to defend Cyprus' case before the European Commission Directorate for Competition.
The replacement of the newly appointed Board of directors with persons with scientific expertise in the field of aviation.
The development of a sincere cooperation between the Board of director and the employees, with the aim to jointly attempt to rescue C.A.
PASYPI states that it continues to call for the resignation of Finance and Transport Ministers for the way they manipulated the process of finding an investor, as well as the financial damage they caused to the company.
"Finance and Transport Ministers made derogatory statements about Cyprus Airways, which caused confusion and concern to passengers. As a result, the reservations have dropped and some have been canceled. Now they need to take responsibility and will have to pay for the damage they themselves have caused the Company.
PASYPI also states that the Minister of Finance should send a letter to the European Commission's Transport Commissioner and request more time to enable the Company to improve its position.