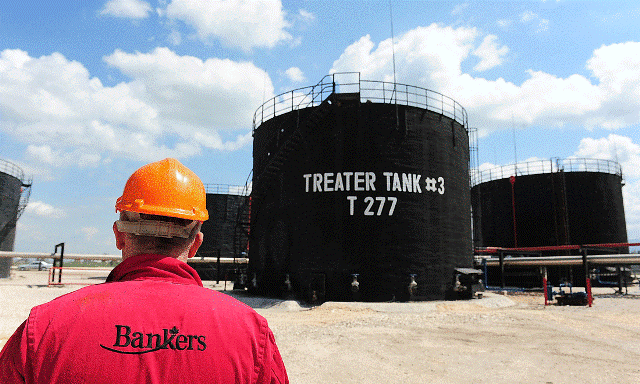 Tirana, 11 May 2016/Independent Balkan News Agency
By Edison Kurani
After the sale of the only civil airport in Albania to the Chinese, another important concession is sold to the Chinese.
Bankers Petroleum Ltd, the company that exploits the oil rich field of Patos Marines through a concession agreement with the Albanian government, announced that the sale agreement with the Chinese company Geo Jade is expected to be finalized within this month.
On 31 May, a special meeting will be held between the shareholders of Bankers Petroleum and after the final approval, from June 2016, Bankers' shares will be traded in Toronto Stock Exchange (TSX) and in the AIM London stock exchange.
Bankers Petroleum has explained the benefits of the agreement.
Every Bankers' share is being sold at 2,2 Canadian dollars. Bankers' debts are being handled separately by the acquiring company and they will not have an impact on the declared price of acquisition at 2,2 Canadian dollars per share.
Bankers says that the agreement is an opportunity for all shareholders to generate value represented by a price two times higher than the current one.
Bankers becomes the second important concession company in Albania which is sold to the Chinese.
Like the Austrian concessionary TIA, which was constantly criticized by the press and the government for the exclusivity of international flights, which it preserves even today, Bankers to has the right of exploiting the best oil rich area in Albania and it has been constantly criticized by the media and the government.
A few months back, Bankers was also accused of tax evasion and the government froze 70 million euros in its accounts. This funds were released again, as the company based in Alberta, Canada, threatened that it would leave Albania.
Benefits of the Arrangement include:
Cash price of C$2.20 per Bankers common share
Bankers debt will be handled separately by the purchasing Company and will not affect the stated purchase price of $2.20 per Bankers common share
The Arrangement is an opportunity for shareholders to crystalize value representing a premium of 98% over Bankers' closing share price on the TSX of C$1.11 on March 18, 2016, and 109% over the 30-trading day volume weighted average trading price of Bankers common shares of C$1.05 per share ending on March 18, 2016
The Arrangement has received the unanimous approval of the Board of Directors of Bankers, who have recommended that shareholders vote in favor of it, and carries the full support of Bankers' management team.