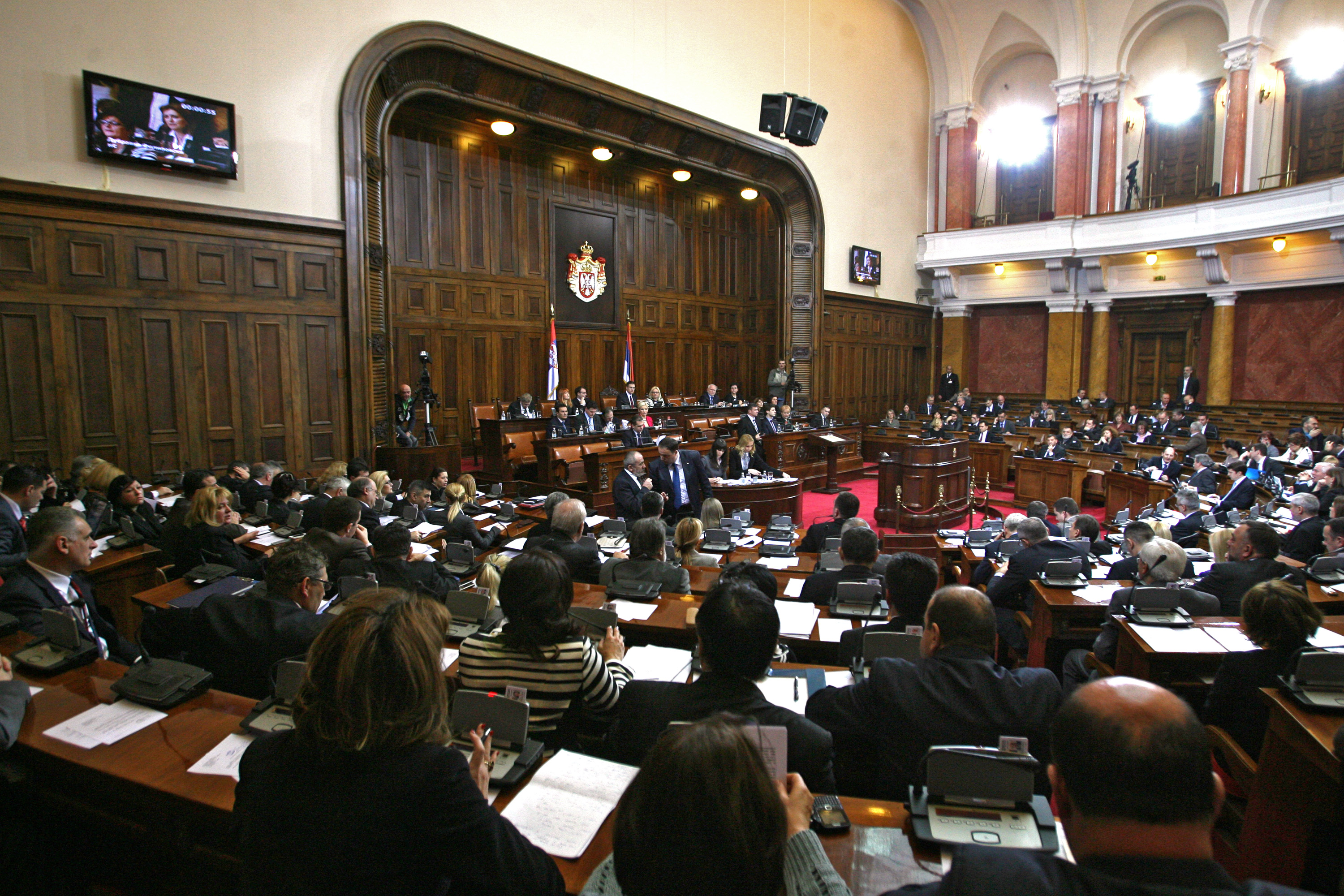 By Milos Mitrovic – Belgrade
The salaries in public sector and pensions above 25,000 dinars (approximately 200 EUR) will be reduced in Serbia following the budget revision, which has been adopted by the parliament late on Sunday. Budget amendments have been adopted by 188 members of parliament out of 250. Ten MP's opposed the changes.
Cuts will affect all public sector stuff including both "direct and indirect" users of the budget as well as those which are employed in the public enterprises. Citizens with "high" pensions will take the brunt of the cuts through a gradual rate of reduction, while 61% of pensioners will not be affected, government underlines.
The pensions of some 1.5 million citizens will be reduced for less than 10%; the amounts of those pensions are currently up to 40,000 dinars. Pensions higher than 40,000 dinars will be cut for more than 10%.
New measures will enter into force from November 1.
The adopted budget revision will increase the budget deficit by 42 billion to 224.7 billion dinars, which is equivalent to 4.64% of the GDP, Tanjug reported.
The parliament has also supported total subsidies increase by 15.8 % to 93.7 billion dinars with the highest amount in economy (9.7 billion dinars).  The subsidies in agriculture will reach 34.2 billion, while the subsidies in roads and railway will remain on the same level, 7.7 billion and 13.2 billion dinars respectively. The rest of transfers will be raised from 71.9 billion to 74.1 billion dinars.
Premier Aleksandar Vucic has said that Serbia enjoys macroeconomic stability and that "fiscal consolidation" measures have been taken to secure a "better future". "Otherwise, we would go bankrupt at the latest in early 2017", Vucic said. "Everywhere in the world the measures we are taking are praised", he added.
The parliamentary leader of the opposition Democratic Party Borislav Stefanovic said that pension reductions are unconstitutional and that some government in the future will have to repay the pensioners.
"Vucic's law is taking the property of some 600,000 pensioners in Serbia. Some of them will submit constitutional complaints and demand their rights in Strasbourg (European Court for Human Rights) and some government in the future will have to repay retirees as it was the case in 2001 when we had to repay the debts of the former Vucic's regime", Stefanovic said alluding to Slobodan Milosevic's authoritarian rule which was supported by former Vucic's party in certain periods during the 1990s.
Vucic was information minister from 1998 to 2000.
Zoran Zivkovic, head of Nova, another opposition group, underlined that the budget deficit has been increased by 80 percent since 2012.
In Ivica Dacic's government created in 2012 Vucic was deputy PM, despite his Serbian Progressive Party being the largest group in the parliament. Vucic became Prime minister after the elections of March 2014.