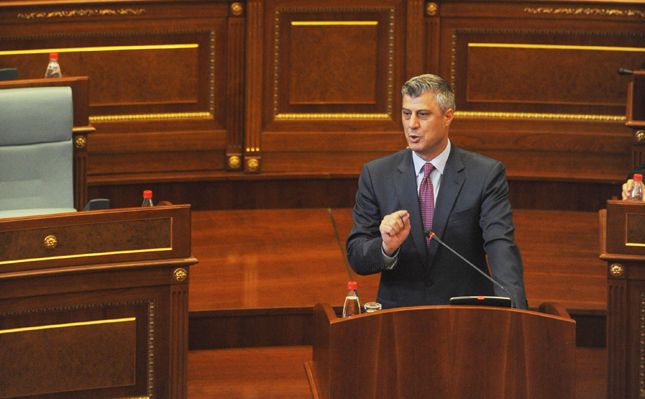 Pristina, March 13, 2014/Independent Balkan News Agency
By Elton Tota
A strong debate has taken place today (13.03) in the parliament of the Republic of Kosovo in relation to the government's decision to increase salaries in the public sector.
During this debate, which also saw the participation of the prime minister of Kosovo, opposition MPs declared that this increase in salaries relates to the electoral campaign for the next parliamentary elections.
Democratic League of Kosovo (LDK) MP, Hikmete Bajrami declared that she publicly renounces her salary increase.
"I renounce from this increase", declared Bajrami when she was debating with Adem Grabovci from PDK.
Self Determination MP, Florin Krasniqi has refused this increase. He even said that he refuses the salary of MP.
"A 500 Euros a month increase for MPs is amoral. As a sign of protest, I renounce not only from this growth, but my entire salary. Why must I get paid so much at a time when ¼ of the population lives on less than a Euro a day? This is amoral", said Krasniqi in today's parliamentary proceedings. Meanwhile, the head of the parliamentary group of the Alliance for the Future of Kosovo (AAK), Ardian Gjini asked the government why it didn't make this increase when the budget of Kosovo was approved three months ago.
"Kosovo's budget was approved three months ago in parliament. It was drafted by the Government of Kosovo 4 months ago and was discussed in parliament. Why was this increase not decided at that time, but it was decided now? In December of last year, they certainly didn't know that the elections would take place so early. This is mere electoral campaign", said Gjini MP.
Speaker of parliament, Jakup Krasniqi has also commented this decision.
He said that the government's decision to increase salaries is unlawful and that parliament is the one that can take this decision.
"Salaries have increased in an unreasonable way. The difference between those who live in miserable conditions and those who get paid enormous salaries is big", argued Krasniqi.
Prime minister of Kosovo, Hashim Thaci told MPs after the criticism that he heard, that if parliament has the will to revoke the increase of salaries for state officials, MPs and President, he will accept to revoke this decision. /ibna/
More: Drastic increase of salaries for senior officials in Kosovo
Experts and opposition in Kosovo say that pay increases are artificial