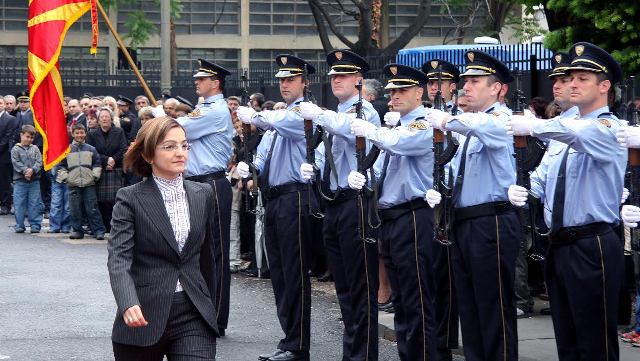 IBNA Special Report
Skopje, April 2, 2015/Independent Balkan News Agency
By Naser Pajaziti
In this time of political and economic crisis, the government of FYROM has decided to increase salaries for police officers. Within a period of two years, the rise will amount to 20%.
The government's decision has sparked political debates and reactions, but also reactions from experts of economic affairs.
Minister of Interior, Gordana Jankulovksa declared that the increase of salaries is being made based on the government plan for the increase of salaries for administration employees.
"This government has shown special care for police workers and since 2006, we have increased salaries by 25%. As of next month, salaries will increase by 5% to follow with a gradual process of increases", said Jankulovska, avoiding the question as to why police officers are benefiting an increase during this period.
A part of economists say that this salary increase is taking place in a period of political crisis. Former minister of Finance, Nikola Popovski says that this measure has a political dimension.
"It's clear that this is a political act in this period of political and economic crisis. It's clear that the budget cannot afford this. To increase salaries, the government must secure funds and borrow money or cut budget in other domains", declared Popovski.
Macedonian opposition has also stressed that this salary increases is taking place at a time when the government of PM Nikola Gruevski is close to capitulation.
"We're seeing a capitulation of Nikola Gruevski's policies and several people around him, who have ruined the state system. Gruevski is in panic and he's rapidly losing control along with his collaborators", declared the spokesman of the Macedonian Social Democratic Union (SDSM), Petre Silegov.
The head of Police Union in FYROM, Tihomir Klimovski has rejected critics about the increase of salaries within police and according to him, police officers deserve higher salaries.
"With their professionalism and dedication to work, the enormous risks that they face, stress and provocation that they encounter in their day to day work, my colleagues deserve this pay increase", Klimovski declared.
University professor for economic affairs, Izet Zeqiri said that this is a populist measure by the government, in an effort to veer off attention from government scandals and affairs that the opposition has made public.
"In circumstances when the economy is recovering, the rise of budget expenses is dangerous. The increase of salaries with budget funds is something that the economy cannot afford", declared Izet Zeqiri for IBNA.
Ministry of Interior in FYROM has 10,925 people employed while this pay increase applies to 10,100 employees. /ibna/