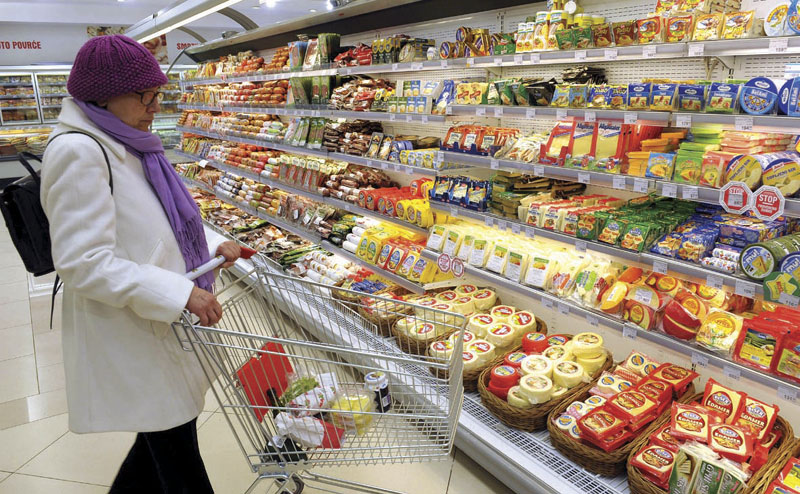 By Adnan Prekic – Podgorica
Recently published statistics show that the total value of the minimum consumer basket in Montenegro is 790 euros, of which 247 euros are spend on food and non-alcoholic beverages, non-food products and services cost 348 euros and the value of imputed rent is 194 euros. The average wage is 474 euros, which shows that people spend more than half of the average wage on food.
Also, a special survey was conducted by the Central Bureau of Statistics (MONSTAT) on household consumption in 2013. The survey results show that households spend the most money per month on food. On the meat and meat products they spend 47 euros, on milk, cheese and eggs 43 euros, bread and cereals 33 euros,  vegetables 20 euros, fruits 12 euros, oil and grease 7 euros coffee, juice, liquor, wine, beer and fish 6 euros.
The analysis of MONSTAT shows that in Montenegro the highest salaries are received by employees in the financial institutions and the energy sector, while the lowest paid employees are in the trade sector and the arts, entertainment and recreation, with less than 400 euros. Wages in the financial sector and insurance activities are 858 euros, supply of electricity, gas, steam and air supply 746 euros, communications and information activities 656 euros and in real estate 601 euros. In the mining sector the average salary is 556 euros, the State Administration 498 euros, agriculture 462 euros, construction  374 euros and in trade 343 euros per month. In the education sector the average salary is 458 euros, which is less than the average wage at the state level.
Interesting data is the average earnings in the municipalities. The highest salaries are in the cities of Tivat and Plužine by 552 euros. In Podgorica the average salary is 501 euro and the lowest wages are in Rozaje 460 euros, Savnik 424 euros, Zabljak 395 euros and Ulcinj 379 euros per month.
According to the MONSTAT, 172,202 employees and 33,906 unemployed people were registerd in Montenegro. Unofficially, this number is much higher because many unemployed people have not been registered at the Employment Bureau. By sector, most employees were in the trade and the administration. The state government employs 20,940 people, education 13,525 and health 11,234. In the trade there are 35,242 people registered, while in the manufacturing industry there are 12,100 employees.