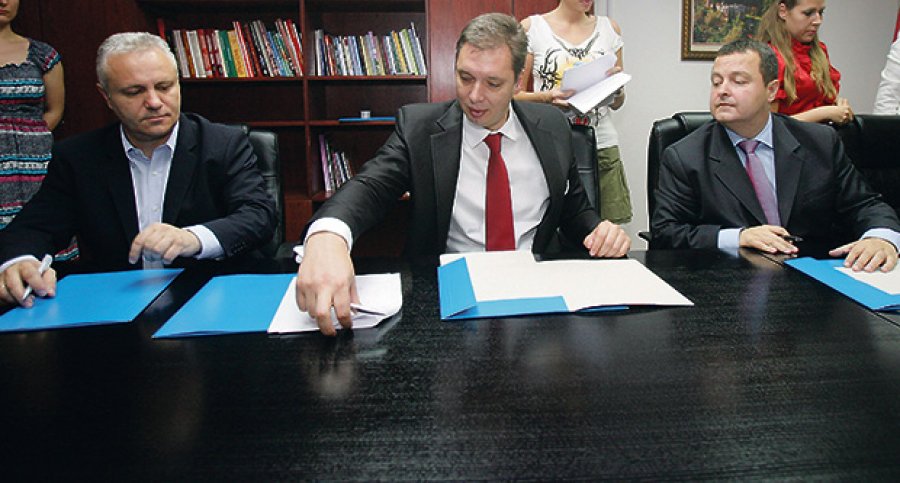 By Milos Mitrovic – Belgrade
The new Serbian government would probably abolish "solidarity tax" which has been introduced in January, but new austerity measures would be adopted, Belgrade "Blic" daily has learned. Progressive's leader Aleksandar Vucic who will be appointed for the new Prime Minister in weeks to come "doesn't want to go to war with everybody, at least in his early term".
Vucic and his economy experts and ministers-to-be have set the economic measures that would be applied promptly after new government is formed; "solidarity tax" abolition is one of the key moves. "If solidarity tax is abolished, the government will have to linearly reduce the salaries in public sector by 10 to 15 percents", the official source told "Blic" adding that measure would affect 800,000 employees. "This will not be popular, but compromises are not foreseen".
"Solidarity tax" has been introduced on January 1 as the key austerity measure referring to salaries and was applied on all salaries above 60,000 Serbia dinars (approximately 515 Euros); the salaries above 60,000 dinars have been taxed at a 20% rate and those that exceed 100,000 dinars at a 25%. The measure has caused dissatisfaction and critics among civil servants.
On Tuesday, Aleksandar Vucic has said that Serbia "now has economic strategy for the first time". "I am satisfied because we have made the plan and because I can see where Serbia will be in four years. I am convinced that we will lose the next elections just like Gerhard Schröder did after he has implemented the hardest reforms in Germany".
On March 16 election Vucic's Serbian Progressive Party won landside victory promising economic reforms and fight against corruption and organized crime.