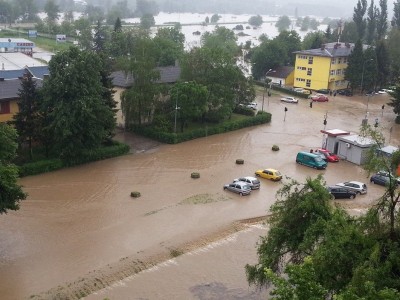 Sarajevo, August 18, 2015/ Independent Balkan News Agency
By Mladen Dragojlovic
The project "Explosive Ordnance and Remnants of War Destruction – EXPLODE", which was implemented in several sites in BiH,  finalised the landslide remediation activities in military ammunition disposal site called TROM in city of Doboj. This city suffered the biggest damage in last year's floods in May.
The project was financed by European Union funds and, as it is announced by EU Delegation in BiH, these efforts reverse the effects of the last year's floods and remove the risks the landslide posed to explosive ordnance disassemble and storage depots.
"TROM was directly impacted by the possibility of a landslide overpowering the facility and compromising the facility's ability to operate", said EU in its announcement.
Colonel Dalibor Peric of the Ministry of Defense of BiH said that the landslide was among the biggest safety threats in TROM, endangering the ammunition delamination processes and safe storage of ammunition.
"The assistance of UNDP and the EU within Project EXPLODE was timely and highly relevant. There was a risk of uncontrolled explosion and serious injury of personnel engaged in the operation in case the land slid further", colonel Peric said.
In the announcement it is emphasised that these efforts to resolve the damage floods caused to the military site and improve infrastructure, particularly concerning high-security areas like TROM, which house hazardous material, make it possible for on-site personnel to conduct their activities without the risk of being injured. Providing a safe environment for operations is fundamental to fulfill the disposal objectives Project EXPLODE has outlined.
Spokesperson of the EU Delegation to BiH and EU Special Representative, Andy McGuffie, said that EU welcomes the progress which was made in the disposal of unsafe ammunition.
"This will help BiH to significantly decrease the time required to close this post-conflict chapter. Obviously it was a high priority for everyone's safety to act to prevent any landslide in this military ammunition disposal site. In this and other ways, the EU is working to help BiH cope with and prevent natural and man-made disasters, that can have a negative impact not only in this country but also in the wider region", McGuffie pointed out.
The European Union invested over EUR 4,6 million in improving the safety of ammunition stockpiles. The area sees exponential increase in ammunition disposal rates expecting disposal of over 2,000 tons of unsafe ammunition this year, improving the safe storage of ammunition and training the Ministry of Defense senior officers to manage their stockpiles safely.
Project EXPLODE is implemented by the BiH Ministry of Defense and United Nations Development Programme in partnership with the OSCE Mission to BiH and is planned to  run until May 2016.