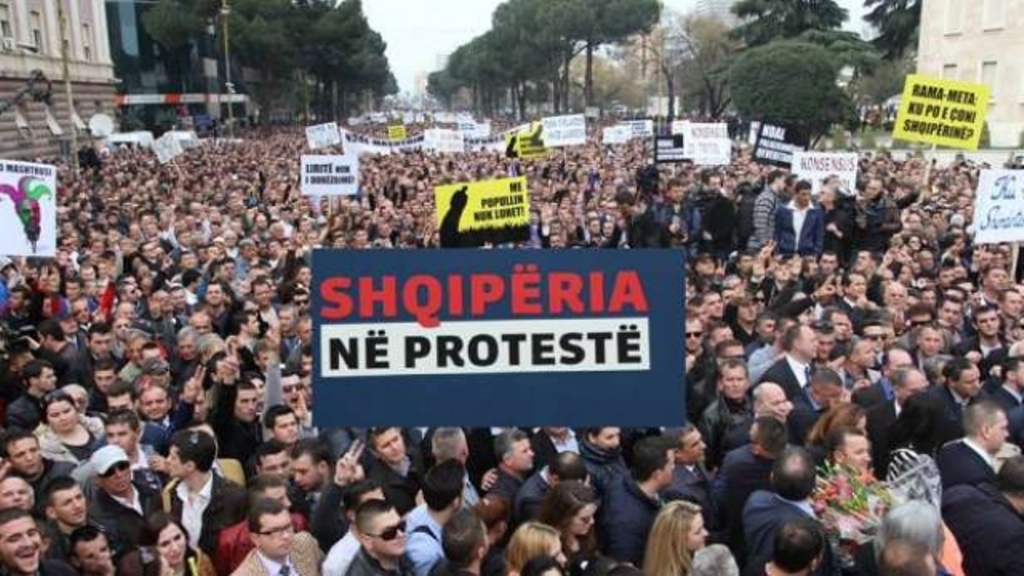 Piše: Edison Kurani 
Strani diplomatiji u četvrtak su intenzivirali pozive da se protest u subotu ne pretvori u nasilje. Razlog za ovu zabrinutost je činjenica da su se prethodni protesti koji su se desili u Albaniji bili nasilni, to jeste, 1998. godine kada je protest organizovalo desno krilo i 21. januara 2011. godine, kada je protest organizovan od strane levog krila i u kojima su ubijena četiri nenaoružana demonstranta. Protest 16. februara sada se smatra testom težnje Albanije da otvori razgovore o pridruživanju EU u junu.
Ambasador EU u Tirani apelovao je da se 16. februara održe mirne demonstracije. "Razmislite o budućnosti," rekao je on. Ipak, Soreca je rekao da je ovo važan trenutak za Albaniju, jer su pravo na protest i sloboda govora osnovno pravo u svakom demokratskom društvu. "Ali ova prava moraju biti sprovedena na miran način," rekao je Soreca. Očekujući da se ove demonstracije ne pretvore u nasilje, Soreca je dodao da je "ovo poziv svim uključenim stranama", ističući da "nasilje neće dopustiti onima koji žele govoriti da se njihov glas čuje. Nasilje ne dozvoljava prenošenje poruka. Moj savet njima je sledeći: Govorite bez nasilja i vaša poruka će se čuti".
UK: Demonstracije moraju biti mirne
Ambasador Velike Britanije u Tirani, Duncan Norman, takođe je pozvao da ovaj protest bude miran.
"Velika Britanija smatra pravo na protest kao osnovno demokratsko pravo. Međutim, demonstracije moraju biti mirne, ako žele da podrže demokratiju. Pozivamo one koji su uključeni u subotnji proces da poštuju ovaj princip," rekao je britanski ambasador.
SAD: Vlada i opozicija treba da odbace nasilje
Ambasada Sjedinjenih Američkih Država u Tirani takođe je uputila sličan apel: "Pravo na mirno okupljanje, peticiju vladi i protest za pozitivne promene su obeležja slobodnog i zdravog demokratskog društva. To je pravo koje se često koristi u Sjedinjenim Državama. Međutim, ovo pravo mora biti provedeno mirno. Nasilje nad ljudima ili imovinom je neprihvatljivo. Pozivamo sve uključene u subotnji protest, i sve političke lidere u Albaniji, da odbace nasilje i osiguraju da se demonstracije provedu mirno i konstruktivno".
OEBS: Nemojte pokušavati državni udar
Pozivajući da se ovaj protest ne pretvori u nasilje, predstavnici OEBS-a u Albaniji su rekli da ne treba pokušavati državni udar. "Težnje svih albanskih građana zahtevaju zreli i konstruktivni politički diskurs; nemiri nisu kratak put do vlasti".
Albanija je u prošlosti videla mnogo političkog nasilja. Svaki povratak u to vreme samo bi nanio štetu zemlji, pogotovo sada jer Albanija ulazi u odlučujući četveromesečni period kada se svi napori i energija moraju posvetiti organizaciji lokalnih izbora, koji su pravi dokaz demokratije," smatraju predstavnici OSCE, čije će predsedništvo uskoro preuzeti Albanija. / ibna /