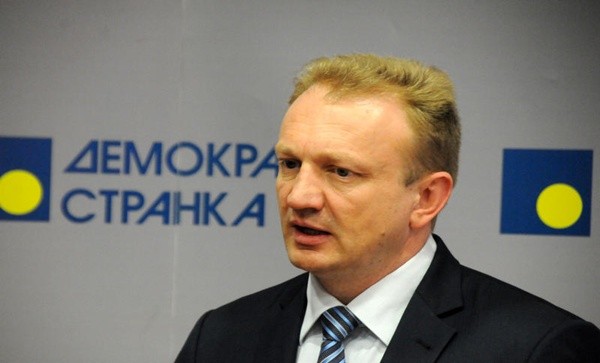 By Miloš Mitrović – Belgrade
Belgrade`s mayor Dragan Đilas, who has been dismissed on Tuesday, insisted that "dictatorship is being introduced in Serbia". Recently, Đilas said for the first time since his Democratic Party (DS)  lost presidential and parliamentary elections in April of 2012, that all the power in Serbia is being "grabbed by one man", alluding to Deputy Prime Minister and Serbian Progressive Party (SNS)  leader Aleksandar Vučić.
The dismissal of Đilas has been preceded by speculations on his political destiny that lasted several months. During that period, Vučić has occasionally made cautious remarks on Đilas`s performance in City Council. At some point, however, he admitted that SNS had no cadres skilled enough for the City administration. At the same time, Đilas as the leader of the main opposition party, did not made almost any critical remarks with regard to Vučić.
Đilas`s sacking proved to be the last stage of DS`s removal from the main centers of political power. Democrats, once headed by Zoran Đinđić, had been the crucial party in overthrowing the authoritarian regime of Slobodan Milošević in 2012.
"We did not forget Milošević`s era and we cannot allow such an regime to be established once again", Đilas said in the interview for the "Blic" daily.
Đinđić, who became Prime Minister after Milošević`s electoral defeat, has been assassinated in 2003. Boris Tadic became new party leader and the President of Serbia. Democrats have been the main ruling party since 2008 to 2012 elections. Đilas became mayor in 2008.
Vučić, who is now both the most popular politician in Serbia – especially due to his anticorruption struggle – and the EU`s political favorite, used to be an extreme nationalist; alongside with the present Serbian President Tomislav Nikolić, Vučić was high official of Serbian Radical Party, Milošević's coalition partner at the time. Since the dissolution among the Radicals in 2008, he took strong pro-European stance.
Before he has been dismissed, Đilas demanded new Belgrade City Assembly elections; he argued that sacking was against the citizen`s will who voted both for him and DS last year. However, recent polls suggest that DS and Đilas are far behind SNS and Vučić.
Progressives say that Đilas has been dismissed because his poor performance as a mayor. Nebojša Stefanović, SNS high official and Parliament Speaker, said "DS and Đilas devastated Belgrade by creating enormous debts and presenting fraudulent figures in this regard". According to Stefanović, who is allegedly among the candidates for the new mayor, Belgrade owes "approximately EUR 900 million" to different creditors. On the other hand, Democrats have put attention to "incomparable higher" indebtedness created by the Government.
Progressives announced that elections in Belgrade would be held in six months.
Đilas's sacking coincided with the arrest of Borislav Novaković, former mayor of Novi Sad, the second largest Serbian City. Novaković is DS high official; he is suspected for the construction land embezzlement alongside with seven other people. On Wednesday, DS organized protest in Novi Sad, claiming that "Novaković is the victim of dictatorship".