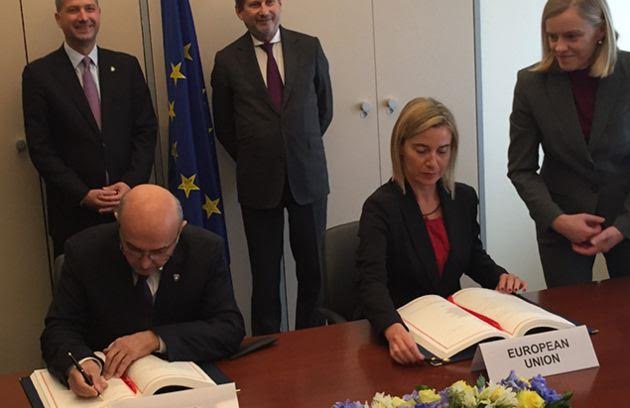 Pristina, 30 March 2016/Independent Balkan News Agency
By Elton Tota
The Stabilization and Association Agreement (SAA) between Kosovo and the European Union will be effective as of 1 April of this year.
Authorities in Kosovo say that this agreement is the culmination of all the efforts and commitment that institutions of Kosovo have shown during the past decade and a half.
Minister of European Integration, Bekim Collaku says that SAA offers a new start which gives way and speeds up the process of European integration.
"As of 1 April 2016, the fate of Kosovo and the European Union will be tied closer than ever before and this will be a good thing for both sides. This is why this year and in the years to come, we must work a lot in implementing this program. The application of SAA in the first three years will give way to Kosovo's application for EU membership candidacy", Collaku said.
According to him, this agreement has three main objectives: to meet the political criteria, deliver the economic reforms in integrating Kosovo's market in the EU and the incorporation of EU standards in all the domains of governing.
President of Kosovo, Atifete Jahjaga says that through this agreement, Kosovo starts today its journey to the European Union, in the family of those countries that share values of freedom, democracy, equality and the rule of law", Jahjaga said.
"This progress comes as a result of the reforms that have been met and the social and political consensus that the European agenda in Kosovo enjoys", the president of the country declared.
EU's office to Kosovo issued a press release by stressing that all political parties must boost their engagement in the European agenda.
"It is in the best interest of all political parties to work together in order to implement SAA as soon as possible to transform Kosovo into a country where people see their European future with optimism. In this aspect, a functional and efficient parliament would be vital", the EU office says.
SAA is an international agreement signed between Kosovo and the EU on 27 October 2015 in Strasbourg and its ratification by the parliament of Kosovo was made on November 2 of that year.
In the economic aspect, this document opens great opportunities for the economy of Kosovo.
Exports to EU will have 0 taxes and imports will be protected with customs charges for a period 5 to 7 years, while 14 agricultural produces will always be protected. /ibna/