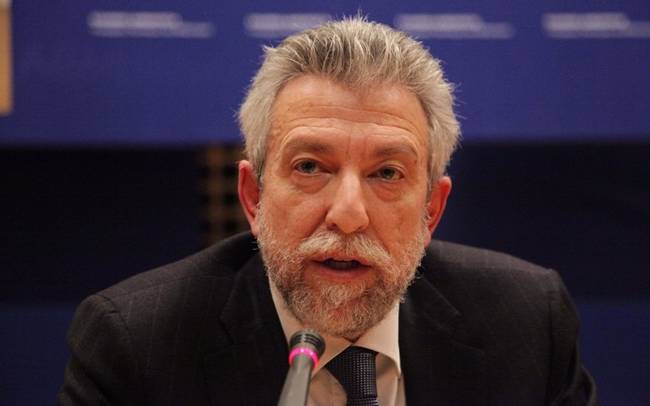 Nicosia, December 16, 2015/Independent Balkan News Agency
By Kyriacos Kyriacou
The Greek government shows continuous interest on developments in Cyprus and will continue to do so until the final resolution of the Cyprus problem, Greek Deputy Minister of Sports Stavros Kontonis has said on Tuesday.
He was speaking following the signing of a sports cooperation protocol between the Cyprus Sports Organization (CSO) and the Greek General Secretariat for Sports.
In his remarks, Kontonis expressed the wish that 2016 will bring the end of the island`s division, which is perpetuated by the Turkish military, and will mark the termination of the anachronistic status of guarantees, giving Cypriots the chance to look to the future with optimism and hope.
According to the 1960 Treaty of Guarantee, Greece, Turkey and the UK are guarantor powers of the Republic of Cyprus.
Kontonis said moreover that the mistakes of the past must make us all wiser, in order to avoid them in the future. He said that in Greece and to some extent in Cyprus as well, there are people who distort historical facts concerning the 1967 military junta in Greece, the 1974 coup d` Etat against Cyprus` elected President, Archbishop Makarios, and the subsequent occupation of a third of the island by Turkey.
These people "try to blame not those who opened the gates for `Attila` and led to the occupation, but others" he noted and referred to "a neonzi gang" which occupies seats at the Greek Parliament, as well as to their "imitators" in Cyprus.
History can not be rewritten, the Deputy Minister of Greece concluded.
On his part, the Ambassador of Greece to Cyprus Elias Photopoulos noted in his own address that negotiations in Cyprus are at a delicate phase.
He expressed hope that a stable and viable solution will be reached, according to UN Security Council resolutions, that will bring about the withdrawal of Turkish occupation forces and terminate the guarantor system.