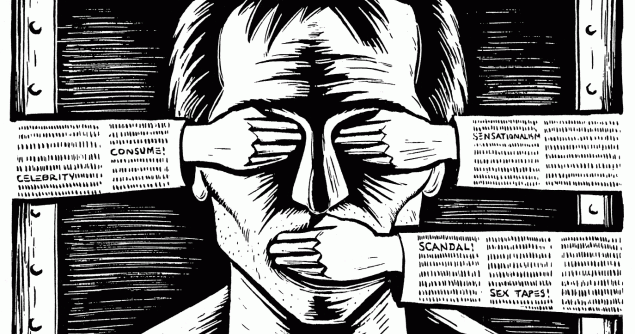 By Christos T. Panagopoulos
A grim image concerning the freedoms of speech and expression in Turkey is described in this year's World Press Freedom index, published by Reporter Without Borders (RWB), with the country falling down to 154th place on the list.
The index focuses not on political developments but on "attitudes and intentions of governments toward media freedom," with criteria ranging from "legislation to violence against journalists," according to the organization. According to RWB, "Turkey, a country of political importance amid the Syrian conflict, was currently the world's biggest prison for journalists, falling in 2013 from 148th to 154th place".
The NGO also noted that although the country has a varied and lively media presence, "there is a paranoia about security, which is expressed by the state, and has a tendency to see every criticism as a plot hatched by a variety of illegal organizations".
Erdogan: Press needs to have moral values
In a message on the occasion of the Journalists' Day on July 24th – which marks the 105th anniversary of the lifting of censorship of the Turkish press, after the 1908 Young Turk revolution against Ottoman Sultan Abdülhamid II – Turkish Prime Minister, Recep Tayyip Erdoğan, insisted that "our institutions of the press should not ignore the interest of the country, public order, societal dynamism and the moral values that their occupation brings while pursuing a free, objective and responsible way of doing their jobs".
Erdoğan also added that the ruling Justice and Development (AKP) government had realized "important reforms on the issue of information and freedom of expression in parallel of Turkey's advancement in issues of human rights and democracy."
Greece plummets to 84th place
Meanwhile, in Greece, RWB sees that journalists "are exposed to public condemnation and violence from both extremist groups and the police".
The country, according to the same source, has suffered a sharp dropdown in the list to number 84, as part of the "unraveling European model" that is otherwise filled with list-topping countries.
Regional scores from zero to 100 ended up as 17.5 for Europe, 30.0 for the Americas, 34.3 for Africa, 42.2 for the Asia-Pacific and 45.3 for Eastern Europe and Central Asia. The Middle East and North Africa region came last at 48.5.
Source: Hürriyet