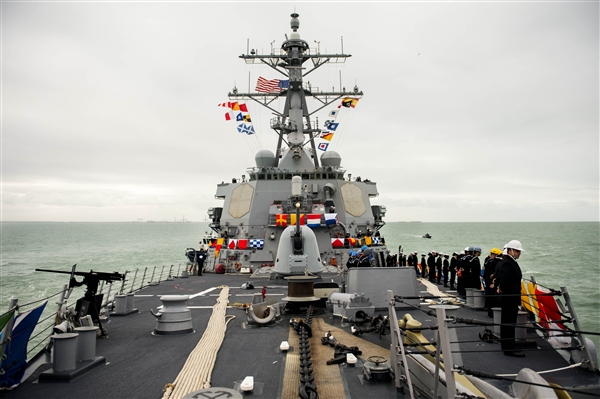 By Clive Leviev-Sawyer of the Sofia Globe
Bulgaria's defence minister has complained that Russia military aircrafts are continuing to carry out provocative reconnaissance flights close to Bulgaria's Black Sea airspace, in remarks made the same day that the Pentagon said that Russian aircraft repeatedly had buzzed a US warship in the Black Sea.
The incidents come against a background of tensions around Russian intervention in Ukraine, a Black Sea coastal country.
Angel Naidenov, defence minister in the Bulgarian Socialist Party cabinet, said that Russian military aircraft had not intruded on Bulgarian airspace but the defence ministry was monitoring the situation carefully and could ask Nato for assistance at any time.
Referring to the Russian flights, which also have been cause for comment by head of state President Rossen Plevneliev who has suggested that Russia is trying to wear out the aircraft it sold to Bulgaria so that it could earn money from fixing them, Naidenov said in an interview with daily 24 Chassa, "you don't think they are flying just to wave at tourists, do you?"
The Russian flights were not only a challenge but a provocation, he said.
Asked to comment on Plevneliev's earlier call for Bulgaria, Turkey and Romania – all Nato members – to co-ordinate in responding to scramble flights to intercept the Russian military flights, Naidenov said that Bulgaria had agreements on trans-border air operations with Romania and Greece but not with Turkey.
While saying that the ministry's assessment currently was that Bulgaria would not need additional Nato forces on its territory, the country could request Nato assistance at any time, and in reference to training programmes, also said that the possibility could not be ruled out that the number of US soldiers training at the Novo Selo joint military facility could be increased.
Meanwhile, according to Romanian president Traian Basescu, a second US warship will arrive in the Black Sea.
Basescu was reported as saying this during a visit to the USS Donald Cook, a guided missile destroyer recently deployed to the Black Sea as a signal from Washington to its allies in the region about its determination to protect their shared interests.
The USS Donald Cook was carrying out a port visit to Constanta in Romania on April 14.
Further, in addition to two small French vessels currently in the Black Sea, a French missile frigate was also expected to arrive in the area. The French ships are to take part in joint military exercises with Romanian navy vessels.
The American Forces Press Service, in an item on the Pentagon website on April 14, said that a Russian attack aircraft had repeatedly flown near the USS Donald Cook in international waters in the Black Sea on April 12.
The USS Cook was patrolling in the western Black Sea when an unarmed Russian Su- 24 Fencer attack aircraft repeatedly flew near the Navy ship, Army Colonel Steve Warren told reporters.
"The aircraft did not respond to multiple queries and warnings from Donald Cook, and the event ended without incident after approximately 90 minutes," Warren said. "This provocative and unprofessional Russian action is inconsistent with international protocols and previous agreements on the professional interaction between our militaries."
Two Russian aircraft were present, but only one took part in the provocative actions, Warren said. The aircraft flew from near sea level to a couple of thousand feet, he added, but never overflew the US Arleigh Burke-class destroyer.
"The Russian plane made a total of 12 passes," he said.
The wingman stayed at a considerably higher altitude, Warren said.
Officials later said the aircraft approached within about 1000 yards of the ship. The USS Cook was never in danger, Warren said.
"The Donald Cook is more than capable of defending itself against two Su-24s," the colonel said.
Warren said he does not think this is an example of a young pilot joyriding. "I would have difficulty believing that two Russian pilots, on their own, would chose to take such an action," he said. "We've seen the Russians conduct themselves unprofessionally and in violation of international norms in Ukraine for several months, and these continued acts of provocation and unprofessionalism do nothing to de-escalate the situation in Ukraine, which we called on the Russians to do," Warren said.
(Photo of the USS Donald Cook: US Navy)