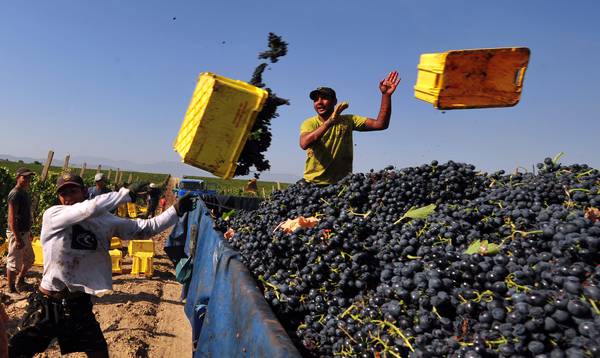 By Milos Mitrovic – Belgrade
Russian Federation's sanctions on food import from European Union countries can be good news for Serbia, economists say explaining that Serbian food exports to Russia could reach some 300 million dollars. In 2013 the value of Serbian companies food exports to Russia was around 200 million dollars; therefore if this scenario is realized, exports could increase by 50 percent.
For achieving this result small producers should be better organized and investments into food processing capacities should be made, economists say.
Dairy farm "Kuc" from Kragujevac is one among 750 Serbian companies which export their products to Russia. "We are focused on Saint Petersburg and Moscow market and our Russian partners distribute our products into big trade chains. On a monthly basis our exports to Russia is between 40 to 60 tons", Mirjana Dudic from "Kuc" dairy told Radio-Television of Serbia (RTS).
In the first half of 2014, Serbian exports of agricultural and food products has increased for 68 percents. Russian sanctions against EU countries does not represent the window of opportunity for Serbia – this window was opened back in 2000 with signing bilateral Agreement on Free Trade. Nevertheless, sanctions could encourage Serbia to distribute it goods to Russia more swiftly, RTS concluded.
"We have appealed to all municipalities to contact possible exporters and sent them guidelines on specific conditions applied by Russian phytosanitary inspections. In many technical aspects we are still not well equipped", Zeljko Sertic, head of Serbian Chamber of Commerce has said.
In order to increase food and agricultural products exports in Russia investments in refrigerators and processing capacities are needed as well as better preparedness of small producers, economist Milan Prostran told "Danas" daily. "The government should invest in one big distributive center. We have to use this opportunity", Prostran added.
Serbian Prime Minister Aleksandar Vucic reiterates that the country will continue its path towards the integration into European Union. At the same time, he insists that Belgrade cannot follow EU line considering Russia and impose sanctions to Moscow. "We depend on both Russian gas and our agricultural exports to Russia. This are the facts we are faced with", Vucic was quoted as saying by RTS.
Trade Minister Rasim Ljajic underlined that in 2013 Serbian overall exports to Russia has exceeded value of one billion dollars.