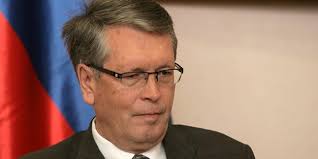 The echo of American diplomat Brian Hoyt Yee's visit to Belgrade can still be heard in the city, two weeks after his return to Washington. Alexander Chepurin, Russian ambassador to Serbia, has accused the country's opposition leaders that they had a meeting with Yee, US deputy assistant secretary of state, in order to complain to him about the government. Furthermore, Chepurin claimed that they have failed to react on Yee's allegedly "anti-Serb" positions.
"They (opposition leaders) wanted to complain about their own government. However, they were not confronted with an anti-government, but rather an anti-Serb position (of Yee). I did not hear their reaction on that", Chepurin told Sputnik. Opposition politicians have rebuffed Russian diplomat's remarks.
Chepurin was "misinformed by somebody", Boris Tadic, leader of the Social-democratic Party and former president of Serbia, has said. "There was no any anti-Serb position (at the meeting). I did not hear any anti-Serb position from Yee. On the contrary, it would be good if ambassadors could refrain from teaching us lessons. They are here to represent their countries", Tadic said.
"It is a pity that ambassador Chepurin has adopted the manners of some Serbian politicians by interpreting the meeting he was not present at… It is even worse if he believes in what he has heard, as he said, about the meeting", Sasa Jankovic, the leader of the Movement of Free Citizens, said.
"The accusations for 'anti-Serb' attitudes are not new and it is quite certain that they cannot bring any good to Serbia and our society. The different divisions on 'traitors' and 'patriots' have had tragic consequences both in Serbia and the region in recent past", Democratic Party leader Dragan Sutanovac said.
According to Cedomir Jovanovic, head of the Liberal-Democratic Party, Chepurin strives to push Serbia from the European Union membership "by all means". "The destabilization of the region and supporting the nationalists… represent the Russian platform that should be used in fight against the West which is contrary to the interests of Serbia", Jovanovic concluded…/IBNA