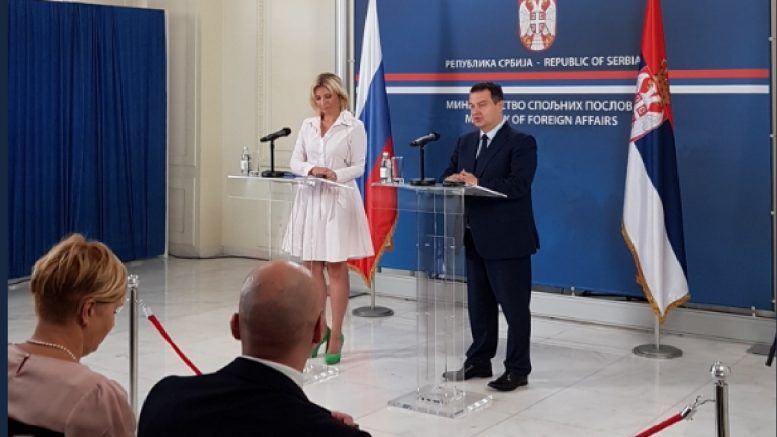 Moscow's position with regard to the Kosovo issue is "consistent and strict; it consists of three components: an international legal basis for what is now going on in Kosovo, respect of Serbian sovereignty and independence, and understanding the interests of Serbia and its people", said Maria Zakharova, Russian Foreign Ministry's spokeswoman, who was on a multi-day visit to Belgrade.
Considering the "international legal basis", Zakharova underlined that the UN Security Council resolution 1244 is still in force. "This resolution has not been revoked by anyone, it is in force and valid", she said in her interview with the Radio Television of Serbia (RTS). "Those countries which are now very loud when it comes to the need to respect the international law should remember that Resolution 1244 is on table".
Zakharova did not specify which countries she referred to.
With regard to the second component she mentioned – the "respect for the Serbian sovereignty, independence and the country's legislation"- the Russian official explained that "at least these countries which are focused on democracy" should abide by the Serbian sovereignty, in accordance with the international law.
The third component – "understanding the interests of Serbia and its people" – obviously means that Moscow would support a Kosovo solution which Serbia accepts, including "border demarcation", despite the "consistent and strict" nature of the position.
"We need to understand the interests of the Serbian people. What Serbia accepts is also acceptable for Russia", Zakharova explained, but did not try to hide her skepticism: "The usefulness of it (demarcation) is questionable".
Last week, Serbia's president Aleksandar Vucic said that "he strives for demarcation between Serbs and Albanians", a solution interpreted as the "division of Kosovo".
Zakharova called Kosovo a "black hole" in which Western countries have "put large amounts of money". "And it is still a "black hole", she added…. / IBNA
Main Photo: Maria Zakharova with the Serbian Minister of Foreign Affairs Ivica Dačić in Belgrade