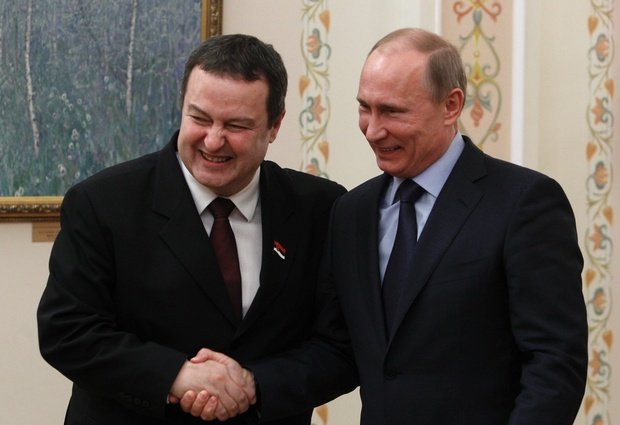 By Milos Mitrovic – Belgrade
There is a possibility for Serbia and Russia to create a joint Investment Fund, Serbian Prime Minister Ivica Dacic revealed today. During the second day of his visit to Moscow Dacic explained that the fund could enable Russian companies to invest in Serbia. Dacic and  the delegation of Serbian Government discussed the plan with the representatives of Russian state-owned VTB bank.
On Wednesday, Russia granted Belgrade a $500 million loan to prop up Serbian budget. A 10-year loan carrying interest of 3.5 percent was only a half of the amount Belgrade was seeking. At the same time, Dacic announced that "a new era in relations between Serbia and Russia had started", after he met Russian President Vladimir Putin and Prime Minister Dmitry Medvedev. Dacic thanked Putin for Russian support for Serbian policy toward Kosovo. "Serbian people know and remember that Russia is the best friend of Serbia", Dacic was quoted as saying by Serbian Broadcasting Corporation (RTS).
"We want as close relations with Russia as possible, and we want them in every domain, from economy and culture to defense and security", Dacic said. He stressed that Belgrade needs close cooperation with Russia in the security area, regarding the fact that "Serbia is surrounded by NATO member states".
Putin stressed that Russia is the biggest foreign investor in Serbia. He sent his regards to Serbian President Tomislav Nikolic and invited him to visit Russia "anytime".
After the eighth round of negotiations on normalizing relations between Belgrade and Pristina has been concluded in Brussels last week, Putin had a phone conversation with Nikolic. On the eve of the last round of Brussels' talks, Russian Ambassador to Serbia Aleksandar Chepurin suggested that the European Union was not neutral mediator in negotiations between Pristina and Belgrade.
On Monday, Serbia rejected the plan on normalization that has been proposed. It is likely that this would postpone the start of negotiations of Serbian accession to EU.
"Russia supports Serbian position on Kosovo. However, we consider that resolution of this issue is Serbian privilege", Russian PM Dmitry Medvedev said after the meeting with his Serbian counterpart. "It is not up to us to push that process. You should be the most interested to resolve this issue", Medvedev stressed.
Dacic said for RTS that his visit to Moscow will assure EU and the United States that "somebody supports us", because "it seemed that Serbia was alone in the international stage, surrounded by NATO member states or countries that tend to become its members".