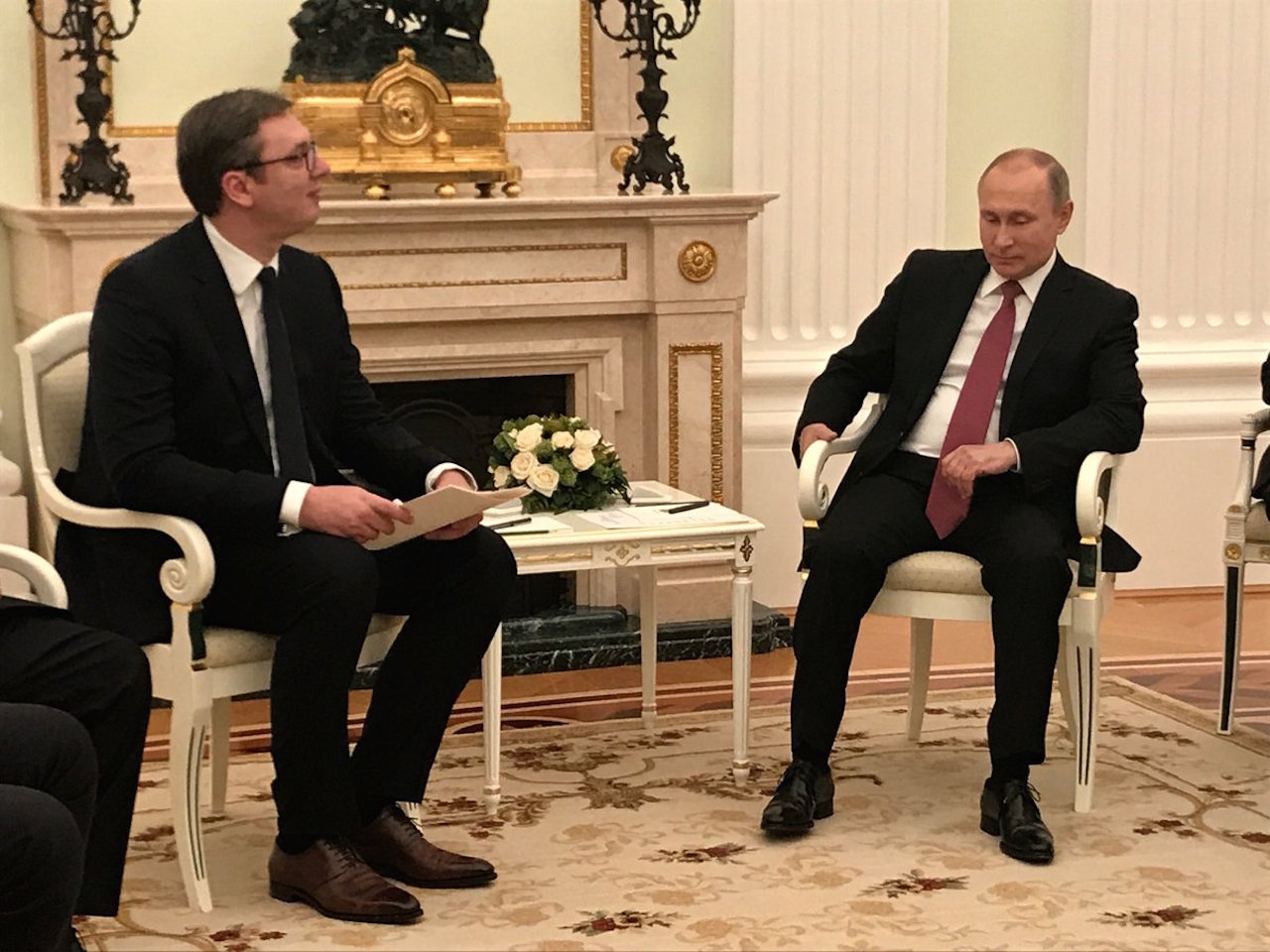 The Russian Federation would be ready to join Belgrade-Pristina talks if the format of the dialogue is widened with the involvement of the U.S. representatives, Serbian president Aleksandar Vucic said in Moscow today. Vucic added that the Russian president, Vladimir Putin has confirmed Moscow's position to him. The Serbian leader, who is on a three-days visit to Moscow, was received by Putin on Tuesday, December 19.
The Belgrade-Pristina talks are mediated by the European Union since they started in 2011. The speculations that U.S. would join the dialogue have been heard only recently. Allegedly, Washington was urged by Pristina to take part in the talks.
"We have reached some kind of deal – if there would attempts and intentions to widen the format of both the participants and mediators in the dialogue… if Americans would like to be the part of that format… We have asked (Putin) whether we would be allowed to say that the Russian Federation is joining our (Serbian) side, and he (Putin) answered positively", Vucic said after today's meeting with Valentina Matviyenko, chairwoman of the Russian Federation Council.
At the same time, the Kremlin refrained from commenting on the possible mediation of Russia in negotiations about Kosovo. Dmitry Peskov, Putin's spokesman, has said today that "the issue of Kosovo was seriously discussed during the Russian-Serbian talks" at the Kremlin, on Tuesday (Dec. 19).
"We will support each mutually agreed resolution reached by both Belgrade and Pristina", Vladimir Putin said after these talks.
Military and energy co-operation
Vucic said today that he and Putin had "a very serious and detailed tete-a-tete conversation on military co-operation". "Serbia is a military neutral country. Serbia must secure itself… That is what I can tell you", Vucic told journalists.
The representatives of the Russian and Serbian governments have also signed a document that would enable Belgrade to re-export Russian gas. The 2012 agreement, which did not stipulate such possibility, is thus changed.
"Serbia is safe as long as I am the president of Russia"
The Serbian press extensively reported on Vucic's visit to Moscow  while their front pages were occupied by relevant headlines. According to "Informer", the tabloid which is the most supportive of the president, Vucic told Putin that "there is not that kind of pressure that would make us impose sanctions against Russia". Simultaneously, the "Informer" claims that the U.S. president Donald Trump "establishes a new criminal tribunal to judge Serbs" for the war crimes in Kosovo.
"Alo", the tabloid owned by media magnate Zeljko Mitrovic, supporter of Vucic, stated in its headline that Putin told Vucic: "Serbia is safe as long as I am the president of Russia. Russia will protect the integrity of Serbia", Putin promised Vucic, according to semi-state owned daily "Vecernje novosti"…/IBNA
Photo: Aleksandar Vucic and Vladimir Putin in Kremlin on Tuesday, December 19 2017 (official Twitter account of Vucic @avucic)