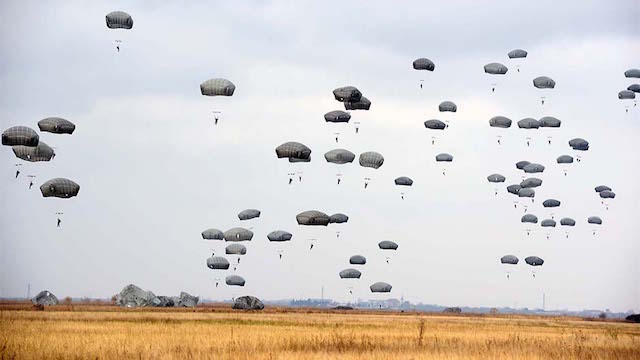 Serbian president Aleksandar Vucic said he was very satisfied with the joint military exercise of Serbian and U.S. paratroopers near Belgrade. Three days of manoeuvres that ended on Friday have been "of multiple use", Vucic added. At the same time, the Associated Press (AP) reported that Russia was concerned over the exercises while Reuters suggested that drills could attract Moscow's attention.
"The joint training contributes to the improvement of knowledge as well as creating partnership and friendship", Vucic stressed recalling that such the U.S.-Serbian cooperation sluggish in the recent past. "Both objectives are realized and I thank the American embassy, the European Command of the U.S. Armed Forces and the National Guard of Ohio", Vucic told journalists at the end of the drill, titled "Winter 2017".
Vucic said that he was proud of Serbian soldiers who have demonstrated the ability "to jump from American planes, using American parachutes". The comment was of particular importance as the Serbian Army use a different parachute type.
The president also thanked soldiers of both Serbia and the United States.
The American ambassador to Serbia, Kyle Scott has said that the exercises were important for the training, but also as a symbol "of joint preparations for the challenges that could appear in the future". According to Scott, the American paratroopers were impressed with the capabilities of their Serbian colleagues.
"American and Serbian paratroopers held joint military exercises Friday in Serbia, watched with unease by Russia, which is trying to increase its influence in the Balkans and keep the country within its fold", AP reported. According to Reuters, "the exercise dubbed Winter 2017, may raise eyebrows in Moscow which wants to keep Serbia, a Slavic and Orthodox Christian ally under its umbrella, and is worried over possible NATO expansion in the Balkans"…/IBNA