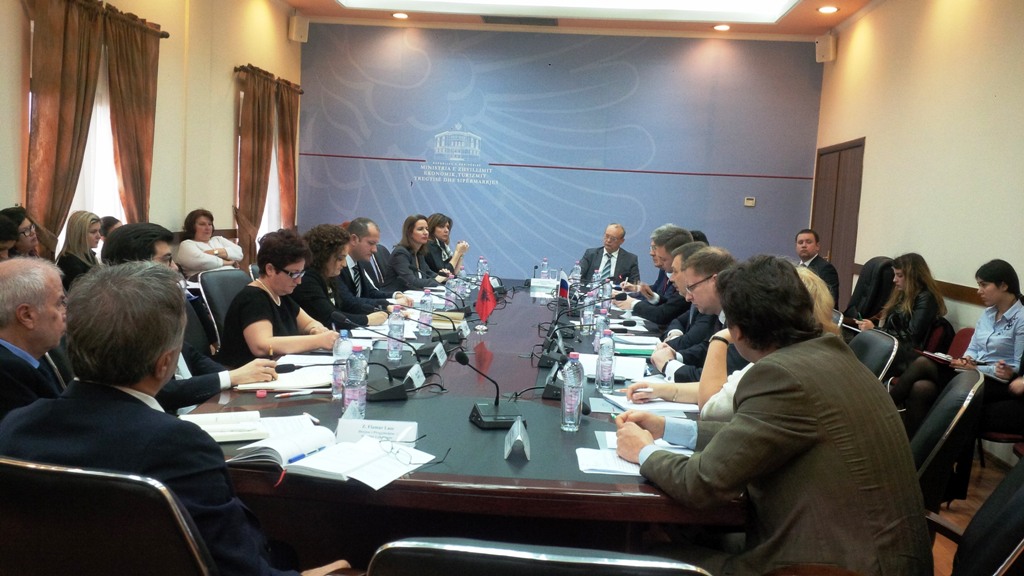 Albanian and Russian authorities are making efforts to boost relations between the two countries, especially in the economic aspect. A meeting held between the Joint Economic-Trade Inter Government Commission "Albania-Russia", was held today in Tirana, preceding the meeting of the 7th Joint Inter-government Commission between the two countries. The Albanian delegation was represented by the vice Minister of Economy, Adela Karapici, while the Russian delegation by the deputy First minister of Justice, Sergey Gerasimov. This is one of the few government meetings between the two countries.
Present in the meeting were representatives of the Albanian and government institutions, where besides the need for cooperation in the main sectors, such as economy, trade, transport, agriculture and energy, they also talked and exchanged opinions on boosting cooperation in the domain of tourism, culture and education.
The participants also demanded an improvement of dialogue in all aspects where the countries may find room for cooperation.
Karapici also spoke of the potential that Albania is offering in terms of investments in infrastructure, extraction industry and tourism. She stressed the possibility of boosting commerce between the two countries in establishing a sustainable mechanism for solid cooperation in the future, expanding relations in different domains.
Mr. Gerasimov also announced the great interest of Russian companies to invest in Albania, mainly in energy, transport and tourism. He said that Russia is interested on launching charter flights for Russian tourists to Albania in order to enjoy the charms of the Albanian coastline and nature. "For this, there must be a bigger media promotion of Albanian tourism in Russia", Mr. Geramisov added.
Deputy minister Karapici said that procedures have started for the removal of the visa regime for Russian nationals toward Albania starting from the month of May to the month of October for the tourist season. She also demanded this measure to be taken for Albanian nationals who want to travel to Russia. /balkaneu.com/