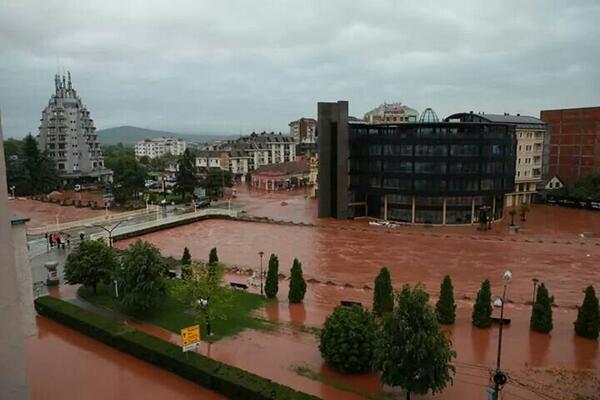 By Milos Mitrovic – Belgrade
Approximately 25,070 people have been evacuated from flooded areas in Serbia, including 7,800 from Obrenovac, 40 kilometers west from Belgrade, which is the most affected by the disaster, Interior Ministry announced today. "The thermal power plants "Kostolac" and "Te-Ko B" are not flooded, personnel is ready and generation of electricity is under control", Ministry added in the statement.
In floods that are affecting Serbia since last week at least 17 people have died. According to some media speculations, which have been rebuffed by the government, there are more than one hundred casualties only in Obrenovac.
According to official figures, there were 12 casualties in Obrenovac with more than 7,800 people evacuated. In 2011 the municipality had a total population of 71,419. The whole town is flooded and evacuated.
The Interior ministry stated that the  situation is "especially difficult" in Krupanj, Sremska Raca and Jamen, all towns in the west of the country. Serbian President Tomislav Nikolic arrived in Krupanj today and delivered help to the citizens.
Nikolic's media adviser Stanislava Pak said there are casualties in Krupanj municipality. Crisis staff are not up to the task. The citizens are upset and they have the right to express their dissatisfaction", Pak told Beta news agency.
Predrag Maric, head of emergency situations sector, said that "rumors and half-truths are directed to provoke panic and distrust". "For two days we are appealing to people to evacuate themselves, but they didn't want to… The siren has been turned on… People have been called on evacuation, but they have refused to do so, two days before this (flood) happened", Maric told B92 television.
"Serbia can count on one billion EUR from the European Union solidarity fund, in order to overcome long term consequences of disastrous floods", Kristalina Georgieva, EU Commissioner responsible for International Cooperation, Humanitarian Aid and Crisis Response said today.
On Sunday, evacuations and food delivery have been conducted by five helicopters. The members of rescue helicopter teams from Hungary, Eulex (Kosovo) and Slovenia have joined the evacuation actions. Last week Serbia received help from Russia, France, Israel, Azerbaijan, Bulgaria, Croatia and other countries. Serbian army, as well as policemen, gendarmes and volunteers are engaged in rescuing people.
At this moment, more than 26,000 families are cut off from electricity. At least 2,260 buildings are flooded and 1,760 endangered, according to official figures.
Earlier today, the evacuation of 10 villages near Sabac, 87 kilometers from Belgrade, has been ordered. Authorities have appealed that women and children should be evacuated first, and men should help the process.
The peak off the swollen Sava river is expected in Belgrade on Wednesday. Maric said that "there is no danger" and "Belgrade has done everything that could be done", but admitted that Wednesday will be "critical". The experts say that the current floods in Serbia are unprecedented in the last millennium.