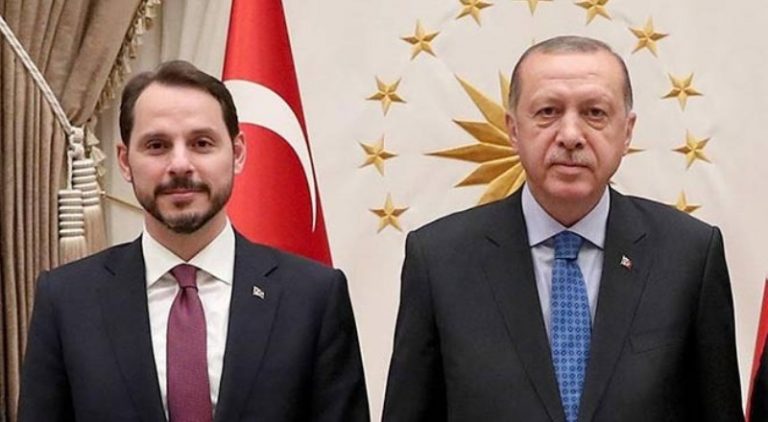 Cumhuriyet "Erdogan accepts suggestions to remove his groom from the Ministry of Finance. Albayrak will take over the Foreign Ministry and Cavusoglu the Ministry of Culture."
There are rumors circling in Turkey about the possibility of government reformation. According to information, the AKP (Justice and Development Party) officials have made recommendations to Recep Tayip Erdogan and report that the planned reshuffle should speed up, in order to take place before the June 23rd elections in Istanbul. According to the newspaper Cumhuriyet, Erdogan accepts the suggestions for changes in the Ministries of Finance, Interior and Foreign Affairs.
The Party executives make these recommendations "to change the atmosphere" for the voters and give the impression that the government "got the message of the municipal elections" of March 31st, where the AKP lost in the big municipalities. In view of the Istanbul elections, they are calling for these changes, in order to change the atmosphere in favour of Binali Yildirim, who supports the AKP.
The Turkish newspaper Cumhuriyet also mentions specific names. It states that there is talk of Finance Minister Berat Albayrak leaving his post and taking over the Ministry of Foreign Affairs. The same newspaper mentions the likelihood of the removal of Interior Minister Suleyman Soylu, so that he can take over as vice-president of the government. The Turkish newspaper also reports that current Foreign Minister Mevlut Cavusoglu may take the position of Minister of Culture and Tourism.
The replacement of Albayrak, according to the newspaper, would give a message of change in the economic policies, and the removal of Soylu would satisfy some Kurdish voters.
Recep Tayyip Erdogan had a surprise meeting on Thursday with his government partner, the leader of the Nationalist Movement Party (MHP) Devlet Bahceli, and rumors say that these issues were also discussed.
However, so far nothing has been announced from the Turkish government.
The Moody's House downgraded Turkey's credit rating to "B1" from "Ba3", while maintaining a "negative" prospect. According to the US firm's assessment, the risk of a crisis on the balance of payments continues to grow, and with it the risk of default payments on the part of the Turkish state./ibna