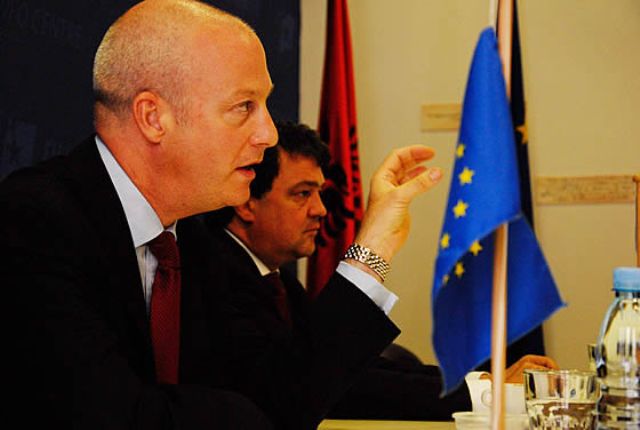 Tirana, July 15, 2014/Independent Balkan News Agency
Representative of the EU delegation in Tirana, Clive Rumbold, said that Albanian political class must join forces for the integration reforms.
Recalling the recent debates taken place in parliament and an incident among three MPs, Rumbold said: "Parliament is the place for the representative of the people. They must take decisions for the best interest of everyone. If we get stuck on personal issues and debates, we distance ourselves from the main function of parliament, which has the duty to draft and approve laws".
He added that politicians must not deal with their personal issues, but make laws, in order for Albania to advance in its EU perspective.
Present in this news conference was also the minister of Integration, Klajda Gjosha, who said that there cannot be a democratic state without the freedom of the media.
"The European Union and the member countries are here to offer their help in drafting legislation and monitoring the media policies of their countries, which will also be applied in our country", said Gjosha.
According to her, the European legislation offers many rights for the media. "Without the freedom of media, we cannot be considered a democratic country and we cannot aspire for EU membership", said the minister of Integration.
She added that one of the main reforms that will help and have an impact in the freedom of the media is the reform in the justice system, where the minister has demanded the engagement of journalists in delivering information. /ibna/